Bloody Court Intrigue: Ash Princess by Laura Sebastian
Bloody Court Intrigue: Ash Princess by Laura Sebastian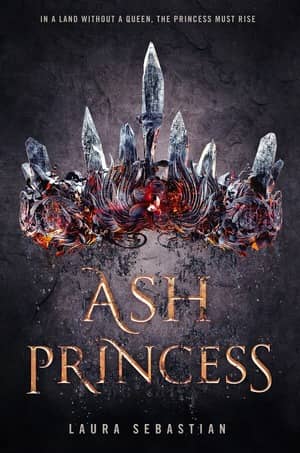 Theodosia just wants to survive.
Ten years ago, the Kaiser's forces invaded and slit her mother the Queen's throat. Theo's been the Kaiser's prisoner ever since. She tries to forget she was once heir to the throne, rather than a princess of nothing but ashes. She tries to forget the magical powers the old gods used to give humans, now that their temples lie in ruins. She tries to forget that her best friend's father was the one who murdered her mother.
Whatever it takes to survive, Theo does. As long as she doesn't look at her countrypeople, she won't have to see their suffering. As long as she censors her speech, her three Shadows won't guess what she really thinks. As long as she does whatever the Kaiser wants, he'll keep her alive. Someday, one of the rebels will save her.
But ten years of playing it safe, of hiding and assimilating, come to an abrupt end in the opening chapter of Ash Princess.
It all starts when the Kaiser sends for her. The only time he ever does that is when he's going to punish her. It doesn't matter that Theo hasn't misbehaved. The Kaiser whips her in public whenever he catches a rebel.
This time, he's caught the head of all the rebels, the one she always dreamed would lead her rescue – her father.
And this time, the Kaiser commands Theo to kill her father in order to prove her loyalty.
Her father tells her to do it, lest the Kaiser kill her, too. If she doesn't do it, she knows, one of the guards will. So she plunges her sword through her father's back and pierces his heart.
Having killed her father herself, Theo no longer believes anyone will come to save her. Which makes it a complete surprise when her childhood friend drugs her Shadows, giving her the chance to escape.
But when she learns how many of her countrypeople have died under the Kaiser's cruel hand, she's ashamed of her own spinelessness and complicity. Some things are more important than survival, and she can no longer just run away. Despite the daily horrors of imprisonment, the constant surveillance of the Shadows, and the Kaiser's plan to marry her to a sadistic nobleman, she decides to stay in the castle and spy for the resistance.
She gets an unexpected chance for vengeance when handsome Prinz Søren, the Kaiser's heir, wants the one thing he can't have – Theo herself, the displaced enemy princess. Using all her cunning and feminine wiles, Theo plays on the Prinz's affections to drive a wedge between him and his father. As soon as she can goad Søren into opposing the Kaiser in public, she plans to throw the court into uproar by killing the prinz and framing his father. But her stratagem becomes even more urgent when the Kaiser decides he wants Theo for himself.
Ash Princess graced the New York Times bestseller list for YA Hardcover for the four weeks between May 13th and June 3rd and reappeared for a fifth week on June 17th. This brutal, mesmerizing fantasy is Laura Sebastian's debut. Its bloody court intrigue will appeal to fans of Kendare Blake's Three Dark Crowns and Kiersten White's And I Darken. Most adult readers of YA should enjoy it. Be prepared for the common YA plot device of a love triangle featuring a female narrator pursued by two hot boys, however.
Delacorte Press has scheduled the sequel, entitled Lady Smoke, to be released in 2019.
---
Elizabeth Galewski is the author of The Wish-Granting Jewel, a fantasy novel, and Butterfly Valley, a tale of travel and transformation based on true events. To learn more, please visit her official author's website at www.elizabethgalewski.com.