Birthday Reviews: Barry B. Longyear's "Collector's Item"
Birthday Reviews: Barry B. Longyear's "Collector's Item"
Cover by George Angelini
Barry B. Longyear was born on May 12, 1942.
Longyear received the John W. Campbell Award for Best New Writer in 1980, the year he won the Hugo and Nebula Award for his novella "Enemy Mine," which was turned into a film starring Dennis Quaid and Lou Gossett, Jr. That same year his novelette "Homecoming" also appeared on the Hugo ballot, as did his novelette "Savage Planet" the following year. His stories have twice topped the Analog Reader's Poll and he has been nominated for the Prometheus Award three times and the Sidewise Award once.
"Collector's Item" was first published by Stanley Schmidt in the April 27, 1981 issue of Analog Science Fiction/Science Fact. The following year it was translated into German to be reprinted in Analog 2, a German language version of the magazine. Longyear also included the story as the lead off to his collection It Came from Schenectady.
Longyear examines the unenviable task of cleaning out a parent's belongings after their death. For Jay Hall, who barely knew his father and had little to discuss with him, the natural inclination is to just take everything and sweep it into the garbage. A call with his father's attorney, however, causes him to look through some of the papers his father has collected over the years. Among those papers are essays written by five of his father's students in 1955.
The essays were assigned on prosaic topics, "What I Did Last Summer," "My Favorite Dream," "Things I Think About." As Jay begins to read them, however, he finds that these five students all had things in common… notable, references to someone known as the Major. Furthermore, their essays all seemed to indicate that they were being fed knowledge of America's future involvement in Viet Nam.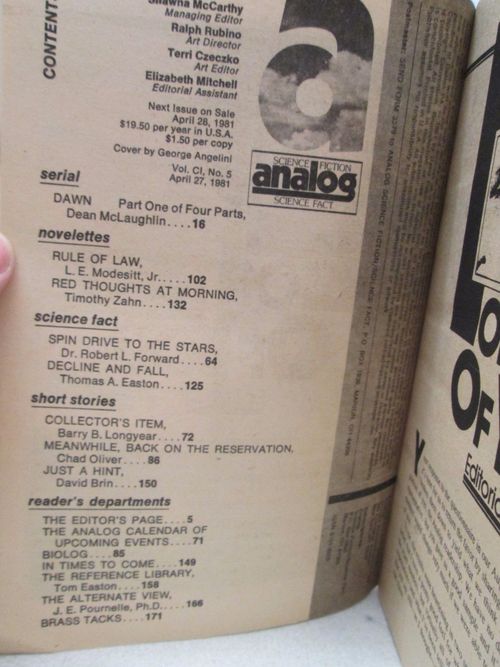 Despite himself, Jay is drawn into the mystery of the essays and trying to understand his father's connection to the events they discuss. The existence of a strange, framed 1978 quarter on his desk, a completely mundane item, also intrigues Jay.
Longyear creates a low key mystery with several levels in "Collector's Item" and provides a reasonable and satisfactory resolution, although he does not share all of the clues the reader needs to solve the riddle until close to the end. Nevertheless, the fun isn't so much the solution, but rather the path Longyear takes to get there.
Reprint reviewed in the collection It Came from Schenectady, by Barry B. Longyear, Questar/Popular Library 1986.
---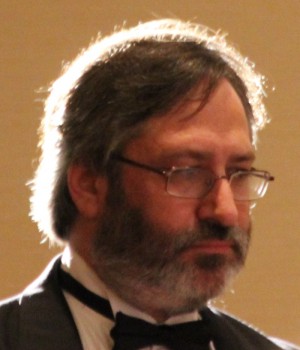 Steven H Silver is a sixteen-time Hugo Award nominee and was the publisher of the Hugo-nominated fanzine Argentus as well as the editor and publisher of ISFiC Press for 8 years. He has also edited books for DAW and NESFA Press. He began publishing short fiction in 2008 and his most recently published story is "Doing Business at Hodputt's Emporium" in Galaxy's Edge. Steven has chaired the first Midwest Construction, Windycon three times, and the SFWA Nebula Conference 5 times, as well as serving as the Event Coordinator for SFWA. He was programming chair for Chicon 2000 and Vice Chair of Chicon 7. He has been the news editor for SF Site since 2002.