Future Treasures: Shelter: Tales Of The Aftermath by Dave Hutchinson
Future Treasures: Shelter: Tales Of The Aftermath by Dave Hutchinson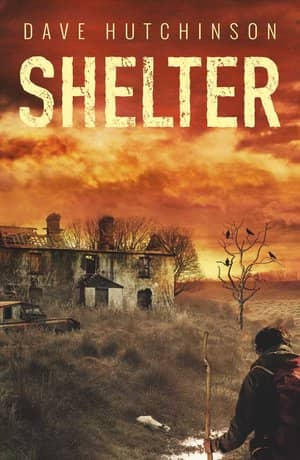 I've heard a lot about Dave Hutchinson's Europe in Autumn series (Europe in Autumn, Europe at Midnight, Europe in Winter, and the upcoming Europe at Dawn, arriving in November). Certainly enough to tempt me to give it a try, anyway.
Although if I really like it, November is a long time to have to wait for that final volume. I dunno… risky.
I think I have a better idea: try out his new standalone novel Shelter, instead. (At least, I think it's standalone. It's set in a fractured Europe, much like the Europe in Autumn novels. Someone more well-informed than I will have to tell us whether the books are connected.) If I like it — and based on the description, odds look pretty good — I might be more willing to take a risk on the others.
Shelter arrives in paperback next month from Solaris. Here's the description.
Rural English Post-Apocalypse survival for a new generation.

The Long Autumn is coming to an end. For almost a century after the coming of The Sisters, the surviving peoples of rainswept England have huddled in small communities and on isolated farms, scavenging the remains of the old society. But now society, of a kind, is starting to rebuild itself. In Kent, a brutal tyranny is starting to look West. In the Cotswolds, something terrible and only vaguely-glimpsed is happening. And in a little corner of Berkshire two families are at war with each other.

After decades of simply trying to survive, the battle to inherit this brutal new world is beginning.
Shelter: Tales Of The Aftermath will be published by Solaris on June 12, 2018. It is 304 pages, priced at $11.99 in trade paperback and $6.99 for the digital edition.