Birthday Reviews: Fiona Kelleghan's "Secret in the Chest"
Birthday Reviews: Fiona Kelleghan's "Secret in the Chest"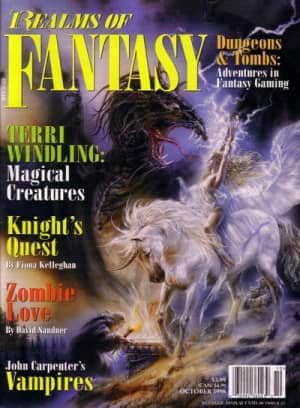 Fiona Kelleghan was born on April 21, 1965. Most of her writing is non-fiction. She produced Mike Resnick: An Annotated Bibliography and Guide to His Work in 2000 and two volumes in the Classics of Science Fiction and Fantasy Literature series. She has also published a variety of essays and  reviews over the years.
Kelleghan's only fiction is the fantasy story "Secret in the Chest," purchased by Shawna McCarthy for Realms of Fantasy, which published it in the October 1998 issue. The story has never been reprinted.
Although "The Secret Chest" seems to start out as a standard damsel in distress/knight on a quest story, it quickly demonstrates that Kelleghan is doing something very different. Sir Palavere comes across a castle while he is seeking to save his village and finds himself having to respond to three challenges from Darcia, a woman who is tied to the castle. The reasons for her link to the castle and the rules surrounding the three challenges are unimportant and Kelleghan doesn't delve into them. They are part of the fantasy narrative and by ignoring them, Kelleghan is challenging them.
Throughout the story, Kelleghan also frequently breaks the structure of fiction, addressing the reader directly in phrasing which is designed to make the reader consider the clichés which the story includes and deconstructs. These asides are unnecessary to the story Kelleghan is telling, which works perfectly well without them, but they adds depth and additional humor. And "Secret in the Chest" makes the reader want to see additional fiction from the author.
Reviewed in its only publication in the magazine Realms of Fantasy, edited by Shawna McCarthy, October 1998.
---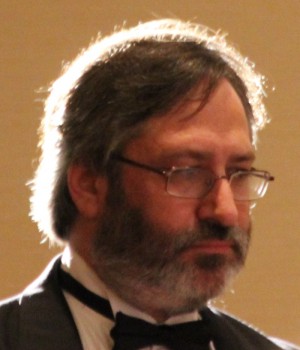 Steven H Silver is a sixteen-time Hugo Award nominee and was the publisher of the Hugo-nominated fanzine Argentus as well as the editor and publisher of ISFiC Press for 8 years. He has also edited books for DAW and NESFA Press. He began publishing short fiction in 2008 and his most recently published story is "Doing Busines at Hodputt's Emporium" in Galaxy's Edge. Steven has chaired the first Midwest Construction, Windycon three times, and the SFWA Nebula Conference 5 times, as well as serving as the Event Coordinator for SFWA. He was programming chair for Chicon 2000 and Vice Chair of Chicon 7. He has been the news editor for SF Site since 2002.