Birthday Reviews: Jim C. Hines's "Spell of the Sparrow"
Birthday Reviews: Jim C. Hines's "Spell of the Sparrow"
Cover by Arthur Rackham, 1910
Jim C. Hines was born on April 15, 1974.
Hines took first place in the Writers of the Future first quarter contest in 1999 for his story "Blade of the Bunny." His novel Red Hood's Revenge was nominated for the Gaylactic Spectrum Award. In 2012, he won the Hugo Award for Best Fan Writer.
"Spell of the Sparrow" first appeared in Sword and Sorceress XXI, edited by Diana L. Paxson. An audio version was included in PodCastle 13, edited by Rachel Swirsky. Hines included it in his e-book collection Kitemaster and Other Stories and it was also reprinted in his collection The Goblin Master's Grimoire.
While there are many tales of changelings and children who are abducted by fairies, Hines goes for a different story in "Spell of the Sparrow." Alycia and James are two happily married former thieves with a daughter who, against her mother's wishes, sneaks off to practice magic. Their lives are thrown into turmoil when Basi, a Cloudling, turns up, having cast a love spell on James. Although Hines explains that Cloudlings use bird magic, and Basi has a sparrow as a familiar, he never fully explains what she is, nor why she chose to cast a spell on James.
"Spell of the Sparrow" is a puzzle story, with James in love with both Alycia and Basi, unable and unwilling to betray either one. Alycia and their daughter, Mel, must try to figure out a way to break the spell, although Basi, and Hines, set enough strictures on the way Cloudling magic works and Mel's abilities that breaking the spell becomes nearly impossible.
The solution, however, plays by the rules that Hines sets up and uses the backstory in a way they it never feels contrived, although it does leave open several questions about the way the world works.
Reprint reviewed in the collection The Goblin Master's Grimoire, by Jim C. Hines, ISFiC Press, 2013.
---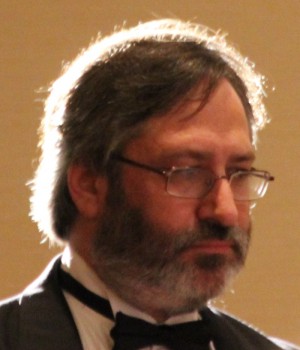 Steven H Silver is a sixteen-time Hugo Award nominee and was the publisher of the Hugo-nominated fanzine Argentus as well as the editor and publisher of ISFiC Press for 8 years. He has also edited books for DAW and NESFA Press. He began publishing short fiction in 2008 and his most recently published story is "Doing Busines at Hodputt's Emporium" in Galaxy's Edge. Steven has chaired the first Midwest Construction, Windycon three times, and the SFWA Nebula Conference 5 times, as well as serving as the Event Coordinator for SFWA. He was programming chair for Chicon 2000 and Vice Chair of Chicon 7. He has been the news editor for SF Site since 2002.