March/April 2018 Asimov's Science Fiction Now on Sale
March/April 2018 Asimov's Science Fiction Now on Sale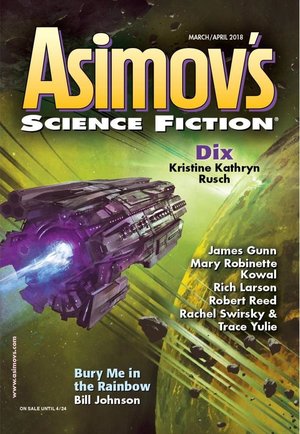 I tell myself that I read Asimov's SF primarily for the fiction, but the fact is that I always flip to the same things first, issue after issue: Sheila Williams' always-thoughtful editorial, and Robert Silverberg's excellent Reflections column. In the March/April issue Bob's article, Rereading Fletcher Pratt, is particularly fascinating, as he discusses Pratt's 1948 fantasy classic The Well of the Unicorn.
I have just reread Well of the Unicorn with the same admiration and delight as before, and find myself regretting that this great fantasy writer is now just about completely unknown to today's readers… Pratt's primary reputation as a writer of historical works carried the book into disaster from the first moment of publication. Instead of taking it to one of the small publishing companies specializing then in fantasy and science fiction, which might not have been receptive to anything so esoteric in manner, he brought it to the mainstream house of William Sloane Associates, a short-lived company with strong literary predilections. They made the catastrophic decision to publish the book not under Pratt's name (which was associated mainly with his works of military history), but under a new byline entirely, "George U. Fletcher," a pseudonym used for the one and only time here. Thus, at a single stroke, the novel was cut off from the readers of Pratt's previous fiction, particularly the well-beloved Harold Shea stories, and from those readers of his books of history who might have been attracted to a work of fantasy that reflected his knowledge of warfare. Bookstores and reviewers thus had no idea of how to deal with the book, and although Sloane put it out in an elegant edition with a handsome jacket and many internal maps, it sank out of sight instantly and not long after publication day arrived at the remainder tables, where I, a high-school student at the time, happily bought a copy for fifty-nine cents. (I knew about the book, despite the opacity of the "Fletcher" byline, because Sprague de Camp had done his old collaborator a favor by reviewing it in Astounding Science Fiction, calling it "a colorful and fast-moving adventure fantasy" that any connoisseur of fantasy would want to have, and hinting broadly and unmistakably at the identity of its author.)

So I laid out my fifty-nine cents (not all that inconsiderable a sum back then) and bought the book, and read it immediately, and loved it, though I was not really a "connoisseur of fantasy" and indeed rather preferred science fiction. I thought it was just grand. And have cherished it ever since.
If you act fast (before the May/June issue arrives on April 24) you can read Bob's complete column online here.
This issue has a "blockbuster novella" from Black Gate author — and my former Motorola colleague — Bill Johnson ("Mama Told Me Not to Come," BG 4), the long-awaited sequel to his Hugo Award-winning story "We Will Drink a Fish Together." Plus a second novella, by Kristine Kathryn Rusch, and stories by Robert Reed, James Gunn, Rich Larson, Mary Robinette Kowal, James Van Pelt, and more. Here's editor Sheila Williams' issue summary.
The March/April 2018 issue features Bill Johnson's blockbuster novella, "Bury Me in the Rainbow." This exciting tale is a stand-alone sequel to Bill's 1998 Hugo-Award-winner "We Will Drink a Fish Together." Don't miss this taut standoff between tough Dakota locals and unpredictable aliens.

In addition to Bill's giant story, we've managed to include "Dix," a thrilling new novella by Kristine Kathryn Rusch, and we've filled the issue to bursting with other tales. Rachel Swirsky & Trace Yulie make their Asimov's debut with "Seven Months Out and Two to Go"; Robert Reed serenades us with "Love Songs for the Very Awful"; Sean Monaghan investigates "The Billows of Sarto"; James Gunn's Transcendence series reaches a climax with "The Waiting Room: The Pedia's Story" and "Attack on Terminal: The Pilgrims' Story"; "Because Reasons," new-to-Asimov's author Alexandra Renwick sort of explains; Rich Larson attempts to give us some advice "In Event of Moon Disaster"; Ray Nayler offers us "A Threnody for Hazan"; Rudy Rucker takes a humorous look at "Emojis"; Mary Robinette Kowal reveals the advantages of "Artisanal Trucking, LLC"; and we embark on a dangerous voyage in James Van Pelt's "Queen of the River: the Harbor Hope."

Robert Silverberg's Reflections spends some time "Rereading Fletcher Pratt"; James Patrick Kelly's On the Net asks "Is the Internet Broken?"; Peter Heck's On Books reviews works by John Kessel, Stephen Baxter, Charles Stross, Elizabeth Moon, Alan Smale, and others; plus we'll have an array of poetry and other features you're sure to enjoy.
In her editorial "More Words About Some Words," Sheila includes a word cloud created by Asimov's "super fan" Piet Nel, "an analysis based on the 3,338 works of fiction and 1,240 poems that have appeared in Asimov's through our September /October 2017 issue." It's well worth checking out here. (Note Asimov's rotates content off their site with each new issue, so after about April 24 this link will take you to the current editorial.)
Because we never pass up the opportunity to showcase vintage paperbacks, here's a look at the 1969 Del Rey edition of The Well of the Unicorn.
Here's the complete Table of Contents for the March/April issue of Asimov's SF.
NOVELLAS
"Dix" by Kristine Kathryn Rusch
"Bury Me in the Rainbow" by Bill Johnson
NOVELETTES
"A Threnody for Hazan" by Ray Nayler
"Seven Months Out and Two to Go" by Rachel Swirsky & Trace Yulie
SHORT STORIES
"Artisanal Trucking, LLC" by Mary Robinette Kowal
"Queen of the River: the Harbor Hope" by James Van Pelt
"Emojis" by Rudy Rucker
"Love Songs for the Very Awful" by Robert Reed
"The Billows of Sarto" by Sean Monaghan
"The Waiting Room: the Pedia's Story" by James Gunn
"Attack on Terminal: the Pilgrims' Story" by James Gunn
"In Event of Moon Disaster" by Rich Larson
"Because Reasons" by Alexandra Renwick
POETRY
The Evolutionary Race by Peter Payack
When Time-Travelers from the Future Finally Reach Us by Darrell Schweitzer
Is it True? It's Not True by Jane Yolen
Palate of the Babel Fish by Todd Dillard
Your Clone Defies Aging by Robert Frazier
DEPARTMENTS
Editorial: More Words About Some Words by Sheila Williams
Reflections: Rereading Fletcher Pratt by Robert Silverberg
On the Net: Is the Internet Broken? by James Patrick Kelly
In Memoriam: Kit Reed
Next Issue
On Books by Peter Heck
The SF Conventional Calendar by Erwin S. Strauss
See the current issue, with story excerpts and links to free online content, here.
The green and spacey cover is by Jeff Brown. I like it.
The issue went on sale February 20. It will be on sale until April 24.
Asimov's Science Fiction is edited by Sheila Williams and published by Dell Magazines. The cover price is $7.99 for 208 pages; a one-year subscription is $34.97 (US) or $49.97 (International). It is also available in a variety of digital formats.
We last covered Asimov's SF with the January/February 2018 issue.
Our March Fantasy Magazine Rack is here. See all of our recent fantasy magazine coverage here.