New Treasures: Nemo Rising by C. Courtney Joyner
New Treasures: Nemo Rising by C. Courtney Joyner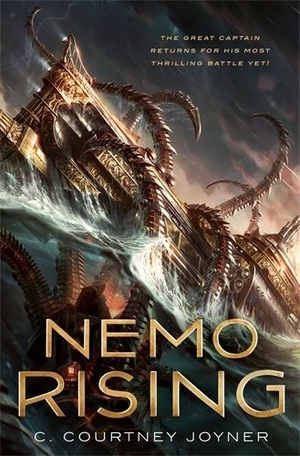 C. Courtney Joyner has more than 25 movies to his credit, including the Viggo Mortensen film Prison. His new novel Nemo Rising began as a screenplay, as Joyner reveals in the appendix, "Nemo Rising: From Script to Novel and Back Again." Here's a snippet.
A kiddie matinee, with popcorn boxes and cups of soda flying overhead, was my introduction to Jules Verne. The movie was Mysterious Island, that grand and very loose adaptation of Verne's semi-sequel to Twenty Thousand Leagues Under the Sea, which featured that wonderful giant crab, created by Ray Harryhausen, and a mesmerizing Captain Nemo in the form of actor Herbert Lom. I was about eight years old, and hadn't read any Verne yet, but I knew who he was, thanks to monster magazines, comic books, [and] paperbacks… I wish I could pretend my interest in Verne, and all that he created, had more sophisticated roots, but the movies and comic books touched the nerve that made me want to discover the real thing and sit down and read.
Joyner sounds like a man after our own heart. I get the feeling he and our Saturday morning blogger Ryan Harvey would hit it off especially well. His script version of Nemo Rising (a sample of which he includes in the appendix) was a sequel to Verne's adventures of Captain Nemo; he turned it into a novel and attracted the attention of Tor Books, no mean feat. Here's the description.
Sea monsters are sinking ships up and down the Atlantic Coast. Enraged that his navy is helpless against this onslaught and facing a possible World War as a result, President Ulysses S. Grant is forced to ask for assistance from the notorious Captain Nemo, in Federal prison for war crimes and scheduled for execution.

Grant returns Nemo's submarine, the infamous Victorian Steampunk marvel Nautilus, and promises a full Presidential pardon if Nemo hunts down and destroys the source of the attacks. Accompanied by the beautiful niece of Grant's chief advisor, Nemo sets off under the sea in search of answers. Unfortunately, the enemy may be closer than they realize…
Nemo Rising was published by Tor Books on December 26, 2017. It is 368 pages, priced at $27.99 in hardcover and $14.99 for the digital edition. The cover is by Raymond Swanland. Read the first chapter here.