Birthday Reviews: Monte Cook's "Born in Secrets"
Birthday Reviews: Monte Cook's "Born in Secrets"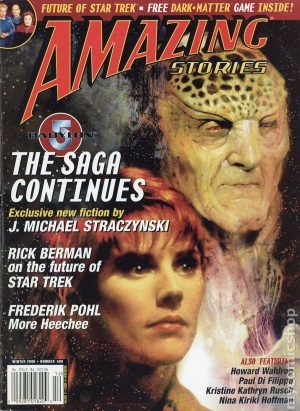 Monte Cook was born on January 29, 1968. Cook has mostly focused his attention on the gaming sector, working for Iron Crown Enterprises on Rolemaster and Champions before moving to TSR, where he designed the game Dark•Matter.
After TSR was purchased by Wizards of the Coast, he was put in charge of the 3rd edition of Dungeons and Dragons. He left Wizards of the Coast and eventually started Malhavoc Press and published game supplements. Cook eventually founded another gaming company, Monte Cook Games.
"Born in Secrets" was published in the January 2000 issue of Amazing Stories, edited by Kim Mohan. The story is set in the world of Dark•Matter and the magazine had an essay about the game published alongside the story. Cook would publish a novel, Of Aged Angels, set in the same world the next year.
"Born in Secrets" tells the story of Jessie Campbell and Lewis McAndrews, two hydrogeologists working on a lengthy assignment in South Dakota when they stumble across an old sod house in the desert. Taking a break from their more pedestrian duties, and at Jessie's urging, they explore the building and find some rusted tools and an old engraving metal platter.
Intrigued by their discovery, Lewis uses the internet to try to figure out what the German engraving means. Although he isn't able to translate the entire thing, he does come across a reference to "Ministers of the Mind" and tries to learn what he can, sending e-mails to various websites. The few responses he receives are anything but enlightening and he shares them with Jessie before they abandon the mystery to return to their work.
Eventually, they are contacted by people who are tied to the Minsters of the Mind and learn that most of their wild speculations were true. They are now hosts to a second consciousness, which the Ministers believe is the next step in evolution.
The ending seems a little rushed once Jessie and Lewis learn what has happened to them. Their reaction to the discovery that they have been infected by another consciousness could have been built on to create a more horrific conclusion.
Reviewed in its only appearance in Amazing Stories, January 2000.
---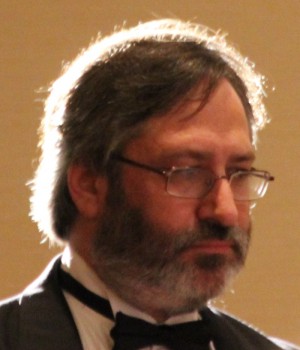 Steven H Silver is a fifteen-time Hugo Award nominee and was the publisher of the Hugo-nominated fanzine Argentus as well as the editor and publisher of ISFiC Press for 8 years. He has also edited books for DAW and NESFA Press. He began publishing short fiction in 2008 and his most recently published story is "Big White Men—Attack!" in Little Green Men—Attack! Steven has chaired the first Midwest Construction, Windycon three times, and the SFWA Nebula Conference 5 times as well as serving as the Event Coordinator for SFWA. He was programming chair for Chicon 2000 and Vice Chair of Chicon 7. He has been the news editor for SF Site since 2002.