Birthday Reviews: K.D. Wentworth's "Her Fair and Unpolluted Flesh"
Birthday Reviews: K.D. Wentworth's "Her Fair and Unpolluted Flesh"
K.D. (Kathy Diane) Wentworth was born on January 27, 1951 and died on April 18, 2012. Wentworth was nominated for the Nebula Award four times, for the short stories "Burning Bright," "Tall One," and "Born Again" and for the novelette "Kaleidoscope." Wentworth published two novels in the Heyoka Blackeagle series and two novels in the House of Moons Chronicles. She also co-wrote two of the novels in the Jao Empire series in collaboration with Eric Flint and two stand-alone novels.
"Her Fair and Unpolluted Flesh" was published in Treachery and Treason, edited by Laura Anne Gilman for Roc in 2000. It has never been reprinted.
K.D. Wentworth creates a religion which based on the holy scripture of the play Hamlet in "Her Fair and Unpolluted Flesh." Based on what Father Benedicto and Father Frederick say, the religion is extremely misogynistic, claiming that women are soulless and have no reason to learn to read or do anything useful.
Set in a nunnery of ophelias, the women are trained to follow in her tragic footsteps to honor the glory that was the character of Hamlet. One of the sisters is to be selected to participate in a ritualistic drowning and is placed into the care of the young, and unsure Father Frederick.
Wentworth's portrayal of a nunnery in this strange religion is an interesting mix of Christianity and Shakespeare's play and works as a commentary on the way textual evidence can be taken to create rituals and support whatever tenets are preferred by the ruling elite. As the story progresses, she expands on that theme by introducing an alternative interpretation of Ophelia's activities in Hamlet, which also provides a motive for women to join the order of ophelias in a world which doesn't prize or want their accomplishments.
Reviewed in its only appearance in Treachery and Treason, edited by Laura Anne Gilman, Roc Books, 2000.
---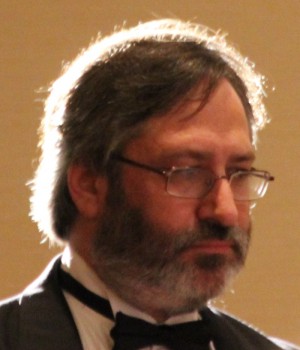 Steven H Silver is a fifteen-time Hugo Award nominee and was the publisher of the Hugo-nominated fanzine Argentus as well as the editor and publisher of ISFiC Press for 8 years. He has also edited books for DAW and NESFA Press. He began publishing short fiction in 2008 and his most recently published story is "Big White Men—Attack!" in Little Green Men—Attack! Steven has chaired the first Midwest Construction, Windycon three times, and the SFWA Nebula Conference 5 times as well as serving as the Event Coordinator for SFWA. He was programming chair for Chicon 2000 and Vice Chair of Chicon 7. He has been the news editor for SF Site since 2002.