Remembering Frank M. Robinson's Legendary Pulp Collection
Remembering Frank M. Robinson's Legendary Pulp Collection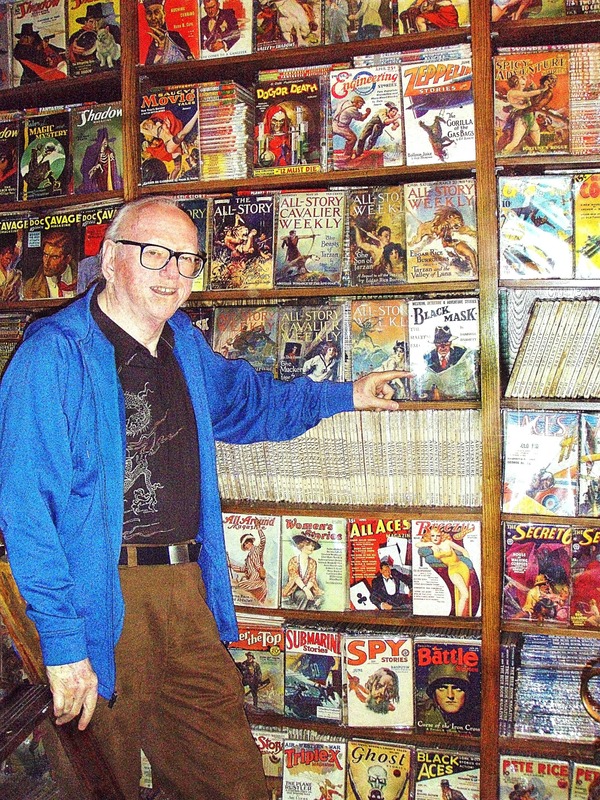 William F. Nolan pointing at the Hammett Black Mask
Frank M. Robinson lived an incredible life. He was drafted into the navy in World War II, wrote his first novel The Power in 1956, and saw three of his books transformed into major motion pictures, including The Power (1968),  The Towering Inferno (1974), and The Fifth Missile (1986). His other novels include Blow-Out! (1987, with Thomas N. Scortia) and The Dark Beyond the Stars (1991). He wrote the Playboy Advisor column from 1969 to 1973, and played himself in the 2008 film Milk, as one of Harvey Milk's political inner circle.
But for science fiction and fantasy collectors, Frank is chiefly known for an entirely different reason: he had one of the most valuable and complete pulp collections ever assembled. His collection was legendary for the incredible condition of most of the magazines, including some of the rarest pulps in existence. Last week Jason V. Brock posted several unseen photos of Frank's collection on Facebook, and was kind enough to offer us high-resolution versions we could share with Black Gate readers.
[Click the images for bigger versions.]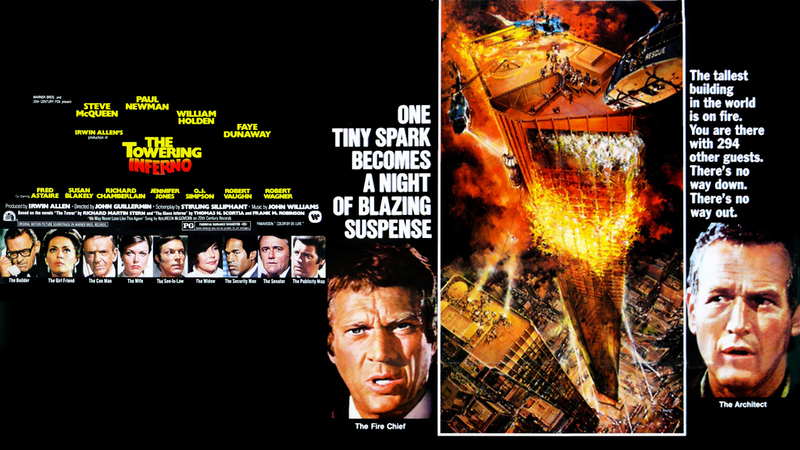 Jason writes:
These are shots I took of the HUGE collection of pulps the late Frank M. Robinson had amassed. He is sorely missed! A wonderful man, and an outstanding writer… This was a FRACTION of what he had, including a full run of near-mint condition Weird Tales.
A complete collection of Weird Tales is a towering achievement. Weird Tales, which had chronically poor circulation, is one of the most sought-after pulps on the market, as it was the most important home of the most significant pulp writers of early fantasy, including H.P Lovecraft, Robert E. Howard, Clark Ashton Smith, and many, many others. Copies in good condition typically go for several hundred dollars each, and early issues for significantly more than that.
Frank takes it all in
Frank began collecting pulps and vintage SF magazines in the 70s. Allen Mueller recently shared the story of how he started.
Did he ever tell you the story about binding his first complete run of Weird Tales before he went into the service?

Frank told me that, when he was a kid he put together a full set of Weird Tales, by scrimping and saving — they were a prized possession. Not knowing any better and wanting to legitimize/preserve them, he had them trimmed and bound in black and he was really happy with how they came out and how they looked on his shelf. He left them at home when he went into the service and his mom disposed of them, either with or without his permission, I can't recall. Anyway, he claimed that one reason he collected and preserved mint-condition pulps was to atone for his idiocy in destroying that early run of WT by trimming and binding them.
Frank had a flair for arranging his pulps in eye-catching floor-to-ceiling displays.
The 1970s might have been the last time it was possible to compile a collection like this, at least for any kind of reasonable sum. His entire collection collection was auctioned off while Frank was still alive by John Gunnison at Adventure House, and netted a total well north of a million dollars.
It was a photo very similar to these that ignited my own passion for collecting. In 1978 I saw a pictorial of Forrest J. Ackerman in Starlog magazine, titled "The World's Greatest Science Fiction Fan." One photo showed Forry posing next to his own massive pulp collection, and the sight of all those gorgeous magazines lovingly gathered together and displayed filled me with delight… and no small amount of envy. If I had a role model at 14, it was without question Forrest J. Ackerman. I began seriously collecting SF magazines on that day.
Forry was famous for giving tours of his 'Ackermansion," a virtual museum of SF fandom in the Los Feliz district of Los Angeles, which contained some 300,000 books and items of science-fiction memorabilia. Sadly, I never saw either the Ackermansion or Frank's impressive collection before they were broken up. When I moved to Chicago in 1990, I did have the opportunity to buy a few Astounding pulps from local collector Robert Weinberg, and he was kind enough to show me some of his incredible collection in his home.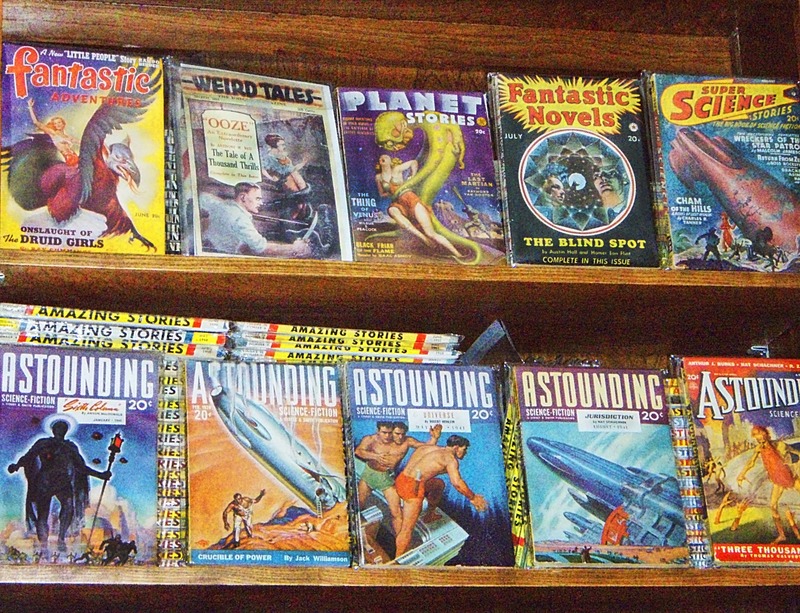 A beautiful run of SF pulps, including Planet Stories and Astounding
Frank died in June 2014, at the age of 87. His home was in San Francisco, where his collection was housed.
I only met Frank once, over a decade ago, when he was a guest at the Windy City Pulp and Paper convention here in Chicago. He was gracious and funny, and spoke at length about collecting on stage in a Guest of Honor Interview.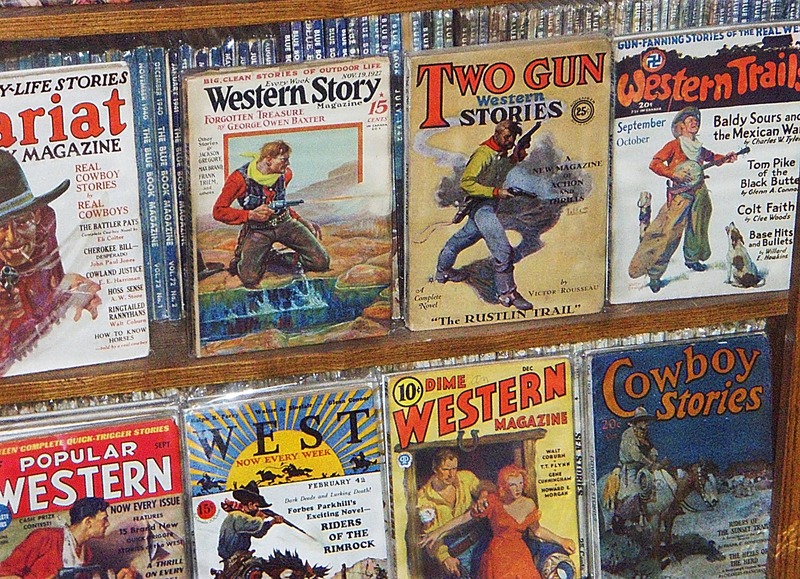 A selection of western pulps
Last week, as we were discussing Frank's collection over lunch, Chicago collector Doug Ellis told me another anecdote. Apparently Frank was present when a near-complete set of early Weird Tales in terrific shape was being auctioned off, and was visually comparing the condition of the copy of Weird Tales #1 on offer to his own. Concluding his own was superior, Frank didn't bid on #1.
When he got home he took down his copy of WT #1 and inspected it carefully. A few years prior, Frank had generously loaned out his copy of the rare issue to a publisher making high-quality reprints, who had painstakingly disassembled the entire issue for a photo-shoot, and then rebound it (using improved glue). As he flipped through it, Frank saw that it was indeed still in great condition…. but he noticed for the first time that one of the 16-page signatures had been bound upside down, and now that the fresh glue had set it was impossible to disassemble it again. Gritting his teeth, Frank had to assemble a trade (including his own copy of #1, and a sizable sum of money) to get the issue he'd declined at auction.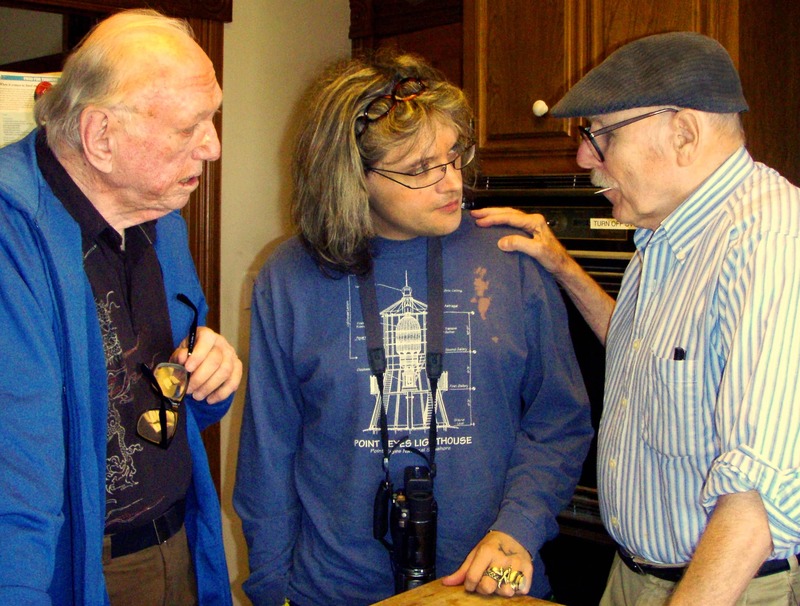 Nolan, Jason V Brock and Robinson
Frank didn't just collect — he was also a noted author on pulps. His first book on the topic, a look at pulp history through cover art, was Pulp Culture: The Art of Fiction Magazines (written with Lawrence Davidson).
More intriguing for collectors is The Frank M. Robinson Collection, published by Adventure House, which includes thousands of color picture from Frank's collection. It served as a both a beautiful tribute to a lifetime of collecting, and as an auction catalog.
Here's a pic of one of the interior pages.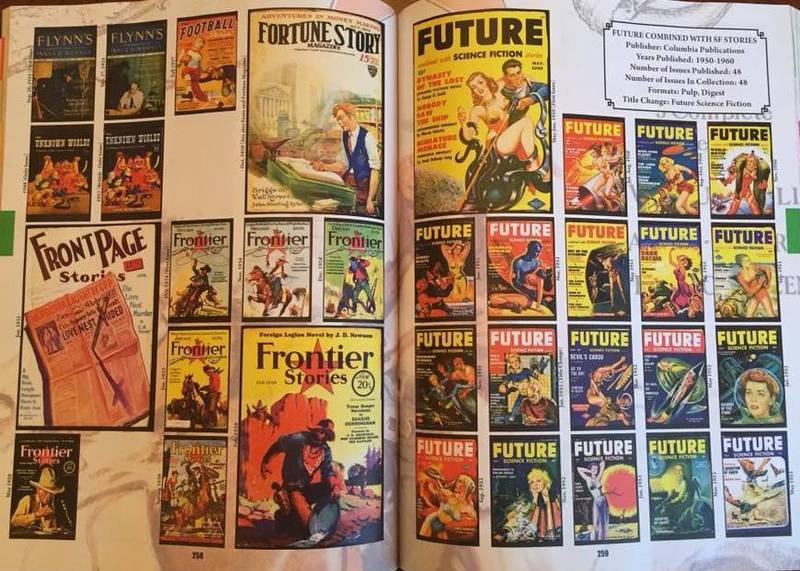 Frank attended numerous pulp conventions over the years, and in 2000 won the coveted Lamont Award for lifetime achievement at Pulpcon.
I hope you've enjoyed this look at one of the most impressive pulp display ever assembled. If you're curious about pulp collecting, consider attending one of the pulp conventions around the country, including Pulpfest in Pittsburgh, and the marvelous Windy City Pulp & Paper Show right here in Chicago.
Many thanks to Jason V. Brock for his kindness in sharing the images, and also to Allen Mueller and John Adkins.
See all our recent coverage of Pulps here.