Vintage Treasures: The American Fantasy Tradition edited by Brian M. Thomsen
Vintage Treasures: The American Fantasy Tradition edited by Brian M. Thomsen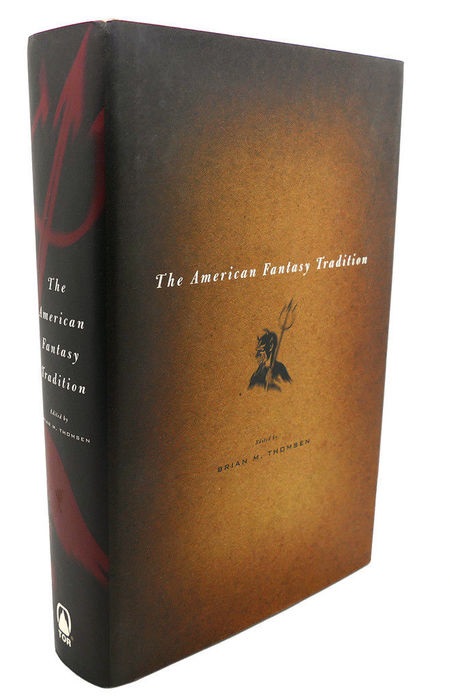 Brian Thomsen's first anthology was Halflings, Hobbits, Warrows & Weefolk: A Collection of Tales of Heroes Short in Stature, a 1991 Questar paperback co-edited with Baird Searles. He followed that with more than a dozen more over the next 20 years — including The Reel Stuff (1998), Oceans of Magic (2001), and Masters of Fantasy (2004) — most co-edited with Martin H. Greenberg. He was the Senior Editor of SF and Fantasy at Warner Books and then Director of Books and Periodicals at TSR, where he wrote several Forgotten Realms novels, including Once Around the Realms (1995) and The Mage in the Iron Mask (1996).
He eventually became a Consulting Editor at Tor, where he produced in my opinion the most significant book of his career, and indeed one of the most important fantasy anthologies of the 90s: The American Fantasy Tradition, a massive 600-page hardcover surveying two centuries of American fantasy, containing stories by Washington Irving, Nathaniel Hawthorne, Mark Twain, Louisa May Alcott, Henry James, Ambrose Bierce, Kate Chopin, Stephen Vincent Benét, Edith Wharton, Robert W. Chambers, H. P. Lovecraft, Manly Wade Wellman, Charles Beaumont, Henry Kuttner, Theodore Sturgeon, Richard Matheson, Fredric Brown, Ray Bradbury, R. A. Lafferty, Alan Dean Foster, Shirley Jackson, Avram Davidson, Harlan Ellison, Stephen King, Gene Wolfe, Karl Edward Wagner, Ursula K. Le Guin, Michael Bishop, and many others.
The American Fantasy Tradition is one of the finest survey anthologies of Western fantasy ever assembled, and it would serve as a splendid textbook for any introductory course to modern fantasy. It stands with David Hartwell's The Dark Descent, Gardner Dozois's Modern Classics of Fantasy, and Jeff and Ann VanderMeer's The Weird as one of the essential texts of the fantasy canon.
[Click the images for bigger versions.]
Thomsen dropped out of a Ph.D. program to pursue a career in publishing, and it's not hard to see The American Fantasy Tradition as a de facto doctoral thesis on fantasy. The core concept is actually pretty intriguing — Thomsen describes American fantasy as falling broadly into three categories: The tall tale, stories that draw on the landscape, and stories that attempt to capture the American spirit. A more complete summary of his overall thesis was contained on the inside jacket flap:
From the ancient tales of long-dead civilizations to the wild success of J. R. R. Tolkien's Lord of the Rings, fantasy has fired our imaginations for as long as there has been story. Whether sweeping sagas of fantastic adventures or cautionary tales told around the campfire, fantasy is deeply woven into the very fabric of humanity, wearing many faces and coming in many flavors. But what fantasy is distinctly American?

The American Fantasy Tradition sets out to answer this very question. This comprehensive critical anthology of American fantasy literature applies the groundbreaking theorems of such esteemed American literary critics as Leslie Fiedler, Richard Chase, and Irving Howe to the genre of fantasy in an effort to delineate the true American tradition of fantasy from the more prominent Anglo-European canon, breaking it down into three distinctive strains:

The American Tale: Folk, Tall, and Weird

Stories that might be considered fables or legends, much like the epics of the Age of Heroes from the classical eras of Rome and Greece, or the tales of the fairy folk from the European tradition, or the fables of Aesop.

Fantastic Americana

Stories set directly within the American historic landscape, much as the Arthurian tradition is set within the confines of British history.

Lands of Enchantment in Everyday Life

Stories that involve what might be called the American spirit, focusing on worlds that exist in the shadows of our own, just beyond Rod Serling's famous signpost for The Twilight Zone.
To support his thesis, Thomsen collected 43 short stories and novelettes, including a John the Balladeer tale from Manly Wade Wellman, an Alvin Maker story by Orson Scott Card, a Castle Rock tale by Stephen King, and many others.
Most of the stories within originally appeared in magazines such as Weird Tales, The Magazine of Fantasy & Science Fiction, Galaxy, Omni, and Asimov's Science Fiction, and anthologies like Dark Forces, Dante's Disciples, Whispers VI, and many others. But they are also drawn from more mainstream sources, such as The New Yorker, The Saturday Evening Post, Harper's, Playboy, Cosmopolitan, Redbook, and others. Here's just a few of the issues that contributed stories to this anthology (click for bigger images).
Here's the complete Table of Contents, with original publication source.
this changed everything, poem by Gerald Blair
Foreword by Brian M. Thomsen
Introduction: An Approach to an American Fantasy Tradition, by Brian M. Thomsen
"Rip Van Winkle" by Washington Irving (The Sketch Book of Geoffrey Crayon, Gent, June 23, 1819)
"Feathertop: A Moralized Legend," by Nathaniel Hawthorne (The International Magazine, February and March 1852)
"Uncle Remus," (excerpts) by Joel Chandler Harris (1880)
"The Saga of Pecos Bill," by Edward O'Reilly (Century Magazine, October, 1923)
"Rosy's Journey," by Louisa May Alcott (1886)
"The Yellow Sign," by Robert W. Chambers (The King in Yellow, 1895)
"The Shadow Over Innsmouth," by H. P. Lovecraft (1936)
"O Ugly Bird!," by Manly Wade Wellman (The Magazine of Fantasy and Science Fiction, December 1951)
"The Fool," by David Drake (Whispers VI, July 1987)
"Narrow Valley," by R. A. Lafferty (The Magazine of Fantasy and Science Fiction, September 1966)
"Jackalope," by Alan Dean Foster (The Magazine of Fantasy & Science Fiction, April 1989)
"The Lottery," by Shirley Jackson (The New Yorker, June 26, 1948)
"Children of the Corn," by Stephen King (Penthouse, March 1977)
"Buffalo Gals, Won't You Come Out Tonight," by Ursula K. Le Guin (The Magazine of Fantasy & Science Fiction, November 1987)
"The Jolly Corner," by Henry James (The English Review, December 1908)
"A Ghost Story," by Mark Twain (Mark Twain's Sketches, New and Old, 1875)
"The Other Lodgers," by Ambrose Bierce (Cosmopolitan, August 1907)
"Ma'ame Pelagie," by Kate Chopin (1893)
"The Devil and Daniel Webster," by Stephen Vincent Benét (The Saturday Evening Post, October 24, 1936)
"The Valley Was Still," by Manly Wade Wellman (Weird Tales, August 1939)
"The Howling Man," by Charles Beaumont (Rogue, November 1959)
"Twenty-Three," by Avram Davidson (Asimov's Science Fiction, July 1995)
"We Are the Dead," by Henry Kuttner (Weird Tales, April 1937)
"Where the Summer Ends," by Karl Edward Wagner (Dark Forces, August 1980)
"Shoeless Joe Jackson Comes to Iowa," by W. P. Kinsella (Shoeless Joe Jackson Comes to Iowa, 1980)
"Hatrack River," by Orson Scott Card (Isaac Asimov's Science Fiction Magazine, August 1986)
"The Hero of the Night," by Bradley Denton (The Magazine of Fantasy & Science Fiction, January 1988)
"The Whimper of Whipped Dogs," by Harlan Ellison (Bad Moon Rising, April 1973)
"The Griffin and the Minor Canon," by Frank R. Stockton (1885)
"The Enchanted Buffalo," by L. Frank Baum (The Delineator, May 1905)
"The Yellow Wallpaper," by Charlotte Perkins Gilman (New England Magazine, January 1892)
"The Moving Finger," by Edith Wharton (Harper's, March 1901)
"Slow Sculpture," by Theodore Sturgeon (Galaxy Magazine, February 1970)
"The Coin Collector," by Jack Finney (The Saturday Evening Post, January 30, 1960)
"Prey," by Richard Matheson (Playboy, April 1969)
"The Geezenstacks," by Fredric Brown (Weird Tales, September 1943)
"Paladin of the Lost Hour," by Harlan Ellison (Universe 15, August 1985)
"The Black Ferris," by Ray Bradbury (Weird Tales, May 1948)
"Bed & Breakfast," by Gene Wolfe (Dante's Disciples, February 1996)
"Dead Run," by Greg Bear (Omni, April 1985)
"Her Pilgrim Soul," by Alan Brennert (Her Pilgrim Soul and Other Stories, December 1990)
"Mrs. Todd's Shortcut," by Stephen King (Redbook, May 1984)
"Among the Handlers or, The Mark 16 Hands-On Assembly of Jesus Risen, Formerly Snake-O-Rama," by Michael Bishop (Dante's Disciples, February 1996)
Select Critical Bibliography, by Brian M. Thomsen
The American Fantasy Tradition was published in hardcover and reprinted a year later in trade paperback. Both editions are now long out of print; however, copies are widely available and very inexpensive. Amazon has hardcovers in very good shape for under $6, and eBay has brand new copies of the trade paperback for as low as $3.
The American Fantasy Tradition was published by Tor Books in September 2002. It is 604 pages, priced at $27.95 in hardcover and $17.95 in trade paperback. The cover was designed by Howard Gorssman.
See all of our recent Vintage Treasures here.