Future Treasures: The New Voices of Fantasy, edited by Peter S. Beagle and Jacob Weisman
Future Treasures: The New Voices of Fantasy, edited by Peter S. Beagle and Jacob Weisman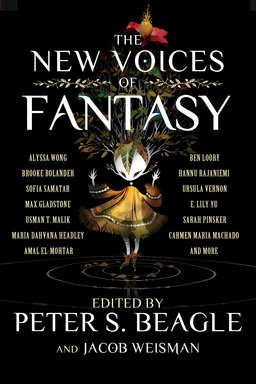 Aside from the usual crop of Best of the Year books, I've been disappointed with this year's reprint anthologies. So I'm intrigued and hopeful about The New Voices of Fantasy, a very promising reprint anthology with a Table of Contents that reads like a Who's Who of the best new voices in the genre — including Amal El-Mohtar, Sofia Samatar, Sarah Pinsker, Max Gladstone, Hannu Rajaniemi, Maria Dahvana Headley, Ursula Vernon, and many others. Kirkus Reviews calls it "Stellar… proves not only that fantasy is alive and well, but that it will be for years to come."
The contents include Alyssa Wong's Nebula and World Fantasy Award winner "Hungry Daughters of Starving Mothers," Ursula Vernon's Nebula Award winner "Jackalope Wives," and Usman T. Malik's British Fantasy Award Award winner "The Pauper Prince and the Eucalyptus Jinn." It also contains an original story by Eugene Fischer. Here's the description.
What would you do if a tornado wanted you to be its Valentine? Or if a haunted spacesuit banged on your door? When is the ideal time to turn into a tiger? Would you post a supernatural portal on Craigslist?

In these nineteen stories, the enfants terribles of fantasy have arrived. The New Voices of Fantasy captures some of the fastest-rising talents of the last five years, including Sofia Samatar, Maria Dahvana Headley, Max Gladstone, Alyssa Wong, Usman T. Malik, Brooke Bolander, E. Lily Yu, Ben Loory, Ursula Vernon, and more. Their tales were hand-picked by the legendary Peter S. Beagle (The Last Unicorn) and genre expert Jacob Weisman (The Treasury of the Fantastic).

So go ahead and join the Communist revolution of the honeybees. The new kids got your back.
Here's the complete Table of Contents.
"Hungry Daughters of Starving Mothers" by Alyssa Wong
"Selkie Stories are for Losers" by Sofia Samatar
"Tornado's Siren" by Brooke Bolander
"Left the Century to Sit Unmoved" by Sarah Pinsker
"A Kiss with Teeth" by Max Gladstone
"Jackalope Wives" by Ursula Vernon
"The Cartographer Wasps and Anarchist Bees" by E. Lily Yu
"The Practical Witch's Guide to Acquiring Real Estate" by A. C. Wise
"The Tallest Doll in New York City" by Maria Dahvana Headley
"The Haunting of Apollo A7LB" by Hannu Rajaniemi
"Here Be Dragons" by Chris Tarry
"The One They Took Before" by Kelly Sandoval
"Tiger Baby" by JY Yang
"The Duck" by Ben Loory
"Wing" by Amal El-Mohtar
"The Philosophers" by Adam Ehrlich Sachs
"My Time Among the Bridge Blowers" by Eugene Fischer
"The Husband Stitch" by Carmen Maria Machado
"The Pauper Prince and the Eucalyptus Jinn" by Usman T. Malik
The New Voices of Fantasy will be published by Tachyon Publications on August 22, 2017. It is 336 pages, priced at $16.95 in trade paperback and $9.99 for the digital edition. The cover art is by Camilla Andre, and the cover design is by Elizabeth Story. Read more details at the Tachyon website.
See all of our recent Future Treasures here.