Evil Wizards, Robot Guardians, and the Maze of the Minotaur: Rich Horton on The Reign of Wizardry by Jack Williamson
Evil Wizards, Robot Guardians, and the Maze of the Minotaur: Rich Horton on The Reign of Wizardry by Jack Williamson
Jack Williamson's novel The Reign of Wizardry was originally published in three installments in the grand old pulp magazine Unknown, beginning in the March 1940 issue (above left, cover by M. Isip). Its first complete appearance was as a 1964 Lancer paperback (middle), with a cover by none other than Frank Frazetta. It's been reprinted nearly a dozen times since, including a 1981 paperback edition from Sphere in the UK (right, artist uncredited), and most recently in the 2008 Haffner Press collection Gateway to Paradise.
Jack Williamson was a SFWA Grand Master. His first story appeared in Amazing Stories in 1928 when he was 20 years old and, in a remarkable career than spanned nearly eight decades, he was still winning major awards in his 90s, including a Hugo and a Nebula for his novella "The Ultimate Earth" (Analog, December 2000). He died in 2006, at the age of 98.
The Reign of Wizardry enjoyed multiple editions over the decades, and last year it was nominated for a Retro Hugo for Best Novel of 1941 (it lost out to A.E. van Vogt's Slan). Recently Rich Horton gave it a warts-and-all review at his website Strange at Ecbatan.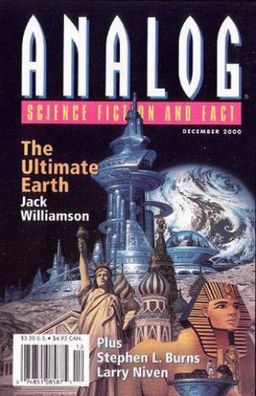 [Click the images for bigger versions.]
I would have said this novel was completely, not just mostly, forgotten, despite being by one of SF's Grand Masters, but a recent event has changed that slightly: it is a nominee for the Retro-Hugo for Best Novel to be given at [the 2016] Worldcon. I happened across a copy of the 1964 Lancer paperback, its first book publication, at a popup used stuff shop. I thought it a curiosity, and bought it for a dollar…

The Reign of Wizardry… turns out to be a retelling of the story of Theseus, and of the Minotaur, though very much altered. It opens with Theseus as a pirate, called Captain Firebrand. His goal is to get to Crete and overthrow the evil wizards who rule Crete, and who also keep other states in the Mediterranean under Crete's thumb, forced to pay tribute and contribute slaves. They encounter a Cretan ship and capture it, and Theseus decides to head to Crete, against the advice of his chief sidekick, Cyron. He also captures a small-time wizard, Snish, who has the power of changing his own or anyone else's shape, though a strong touch (or especially a kiss) will return one to his own shape. Snith was originally Cyron's reward, in the form of a beautiful woman, but when revealed to be a fat little Babylonian, Cyron gladly cedes him to Theseus.

After an encounter with the Cretan navy, and its weak admiral, Snish and Theseus end up shipwrecked, with Theseus disguised as a Norseman. He escapes Talos, the robot guardian of the island, who is looking for the pirate Captain Firebrand. But Theseus' plan is to to be captured and sent to the Games, where if anyone wins they take over the kingdom from evil Minos, who has survived such challenges for a thousand years….
Read Rich's complete review here.
Our previous coverage of Jack Williamson includes:
Professor Patrice Caldwell on Exploding Cows, Peanut Buster Parfaits, and Why Grand Masters Flock to Portales, New Mexico by Emily Mah
Vintage Treasures: The Legion of Space by Jack Williamson
Vintage Treasures: The Best of Jack Williamson
Jack Williamson, Lin Carter and Appendix N: Advanced Readings in D&D
Vintage Treasures: The Green Girl by Jack Williamson
The Great Pulp Gathering: That Time Jack Williamson, L. Sprague de Camp, Frank Belknap Long, Edmond Hamilton, John W. Campbell, Manly Wade Wellman, Otis Adelbert Kline and others met at Mort Weisinger's House in 1937 by Doug Ellis
See all of our recent Vintage Treasures here..