Unutterable Sadness and Grave Superstition: The Hidden People by Allison Littlewood
Unutterable Sadness and Grave Superstition: The Hidden People by Allison Littlewood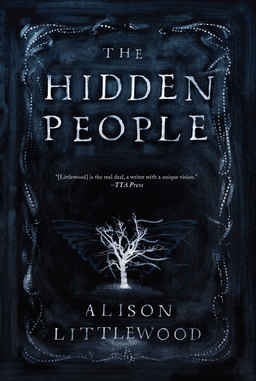 In Ireland in 1895, a woman named Bridget Cleary was burned following accusations that she was a changeling. Her horrific demise serves as the inspiration for The Hidden People by Alison Littlewood, a book of arresting power and unbearable sadness. I can understand why. Try to think of something more tragic than being executed for a crime you're powerless to understand.
Albie Mirralls, the novel's protagonist, faces a similar dilemma. When he learns that his sweet-natured cousin, Lizzie, was murdered by her husband after he became convinced she was one of the fae, he travels to her home in Yorkshire. There he uncovers the sordid tale of her death in the shelter of her cottage, all the while succumbing to an exquisite madness. When his wife, Helena, travels from London to join him, the situation becomes perilous. But compared to a shocking revelation concerning a supposed friend, it pales.
Littlewood's writing routinely takes your breath away with its astonishing beauty. She wields a tremendous command of language, bordering on peerless in the way she describes the ethereal nature of the surroundings. I visualized the sickening idyll of Halfoak, the bucolic village nestled in the heart of Yorkshire, so clearly that I could have closed my eyes and awoken in the novel. In a novel that places tremendous importance on the endless summer of the village, Littlewood's descriptions resonate powerfully. They add a definite sense of unease to the plot.
Among the additional effective qualities of the book were the bleak plot points and suffering characters. No one has an easy time of it. Even some of the most famous tragedies, like Romeo and Juliet, have nuggets of humor, but not so with Littlewood's tale. Chapter after chapter, Albie suffers agonizing emotional and physical ordeals, never once receiving the much-needed comfort of comic relief. It's possible Littlewood could have included nuggets of dark humor about the superstition surrounding the fae. But the novel offers not a moment to laugh with yourself.
Nor do the characters have any reason to feel joyful. Least of all Essie Aikin, the mother of a baby who is stolen from her home. I felt a stronger amount of pity for her than for Albie, whom I admit I had no strong feelings for until the end.
Another character I cared for was Albie's wife, Helena, who tries to support Albie through the visit. The dissolution of love for devastating reasons will twist your heart.
It's a challenge to feel for the villain, however. (SPOILER ALERT: A word of advice: you may think Lizzie's husband burned her alive, but keep your eyes open for clues to the contrary. You'll understand why later.)
On the subject of understanding, I have difficulty grasping why I found it difficult to care about the characters for much of the novel. It may have been due to the remoteness of the subject, or the portrayal of the characters. But mostly I believe it came from the self-centered nature of the majority of the characters. They all seemed to inhabit their own private islands, rarely making time for one another. It made for an altogether unconventional reading experience, one that few books provide.
There's also the power of superstition. Terror of changelings rattles the hardworking, xenophobic inhabitants of Halfoak enough to make them forget the roots of their religion: myth and legend. (And one more SPOILER ALERT, for those readers wondering whether this book is a fantasy: Don't think for one minute that the fae don't make an appearance. When they do, I guarantee tears will spring from your eyes. Few times have the fae made so wondrous an appearance.)
The Hidden People was published by Jo Fletcher Books in November 2016. It is 320 pages and is available in hardcover for $26.99 and ebook editions for $12.99. Littlewood kindly includes a bibliography at the novel's end, gently nudging readers towards tantalizing books and sites with which to further educate themselves on the enchanting subject of the fae. Do yourself a favor and find some.
---
Zeta Moore's last review for us was Cornelia Funke's The Golden Yarn. She is exploring work in care for individuals on the autism spectrum, and nerding out when she can.