Tor.com on the Most Intriguing SF and Fantasy Books of 2017
Tor.com on the Most Intriguing SF and Fantasy Books of 2017
No sooner do we wrap up all the 2016 Best of the Year lists than we're deluged with 2017 Best Upcoming Books lists. Well, if it's our lot in life to read all these lists and dutifully report the best to you here, we shall carry our burden stoically.
As usual, Tor.com is first out of the gate, with a generous survey of a dozen SF and fantasy titles coming in 2017 that they want to read right now. It includes new novels by Nnedi Okorafor, Mur Lafferty, George Saunders, Kameron Hurley, Catherynne M. Valente, N. K. Jemisin, and many others. There's lots on their list that appeals to me — like Revenger by Alastair Reynolds, coming in paperback from Orbit on February 28, 2017.
Captain Rackamore and his crew's business is to find the tiny, enigmatic worlds which have been hidden away, booby-trapped, surrounded by layers of protection – and to crack them open for the ancient relics and barely-remembered technologies inside. But while they ply their risky trade with integrity, not everyone is so scrupulous.
As Molly Templeton writes, "Space! Pirate! Sisters! Is this a movie yet? I want to read it and watch it."
Also on the Tor.com list is A Closed and Common Orbit (Harper Voyager, March 14, 2017), the second novel by Becky Chambers, and the sequel to her popular space opera The Long Way to a Small, Angry Planet.
Lovelace was once merely a ship's artificial intelligence. When she wakes up in a new body, following a total system shut-down and reboot, she has no memory of what came before. As Lovelace learns to negotiate the universe and discover who she is, she makes friends with Pepper, an excitable engineer, who's determined to help her learn and grow.

Together, Pepper and Lovey will discover that no matter how vast space is, two people can fill it together.

The Long Way to a Small, Angry Planet introduced readers to the incredible world of Rosemary Harper, a young woman with a restless soul and secrets to keep. When she joined the crew of the Wayfarer, an intergalactic ship, she got more than she bargained for — and learned to live with, and love, her rag-tag collection of crewmates.
And last but my no means least is the book that intrigues me most on the Tor.com list: Winter Tide (Tor.com, April 4, 2017), a Lovecratian thriller from debut novelist Ruthanna Emrys.
After attacking Devil's Reef in 1928, the U.S. government rounded up the people of Innsmouth and took them to the desert, far from their ocean, their Deep One ancestors, and their sleeping god Cthulhu. Only Aphra and Caleb Marsh survived the camps, and they emerged without a past or a future.

The government that stole Aphra's life now needs her help. FBI agent Ron Spector believes that Communist spies have stolen dangerous magical secrets from Miskatonic University, secrets that could turn the Cold War hot in an instant, and hasten the end of the human race.

Aphra must return to the ruins of her home, gather scraps of her stolen history, and assemble a new family to face the darkness of human nature.
Winter Tide is being advertised as Book One of The Innsmouth Legacy series. You can sample the series with "The Litany of Earth," a free story featuring the first appearance of Aphra Marsh, published May 2014 at Tor.com.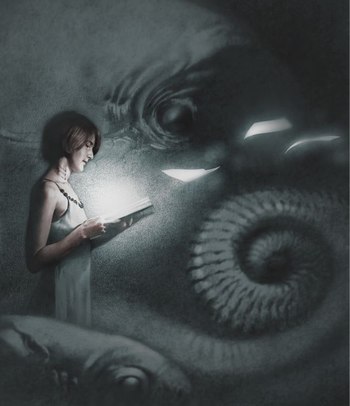 Read "The Litany of Earth" by Ruthanna Emrys
at Tor.com (art by Allen Williams)
Read the complete list of forthcoming books at Tor.com.
Interested in the best books and games of 2016? Here's our picks for the top lists so far.
Amazon Selects the Best Books of 2016
GeekDad Selects the Best Tabletop Games of 2016
Kirkus Selects the Best Science Fiction and Fantasy of 2016
Barnes & Noble Sci-Fi & Fantasy Blog Selects the Best Novels of 2016
Andrew Liptak Selects the Best Science Fiction and Fantasy Novels of 2016
Barnes & Noble Sci-Fi & Fantasy Blog Selects the Best Horror Books of 2016
Publishers Weekly Selects the Best Science Fiction and Fantasy Novels of 2016
Barnes & Noble Sci-Fi & Fantasy Blog Selects the Best Collections and Anthologies of 2016
John DeNardo on the Best of the Best: The Definitive List of 2016's Best Science Fiction and Fantasy
See all our coverage of the best upcoming books here.