An Experiment in Gor: What Are John Norman's Books About, Really? The Hidden Secret of the Counter-Earth Saga is an Over-Abundance of…
An Experiment in Gor: What Are John Norman's Books About, Really? The Hidden Secret of the Counter-Earth Saga is an Over-Abundance of…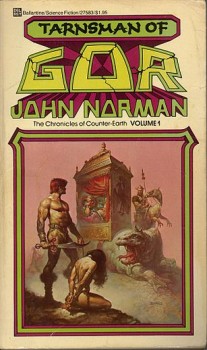 I'm positive that I read the first book in the [Counter-Earth Saga/Tarl Cabot Saga/Chronicles of Counter-Earth/Gorean Cycle/Gorean Saga/take your pick], sometime back in junior high. That would be Tarnsman of Gor, first published in 1966 by Ballantine, which recounts how Earth professor Tarl Cabot is mysteriously transported to our solar system's hidden tenth planet orbiting the sun in a position exactly counter to Earth's. There he encounters a Barsoomian-inspired sword-and-planet environment. He quickly adapts, becoming a Gorean swordsman and assimilating into the culture of his adopted planet.
If I read any of the sequels, I can't recall — although I remember enjoying the first book, at least the first part of it recounting Talbot's strange experiences (involving a mysterious package, I believe) and subsequent relocation to another world. As The Encyclopedia of Fantasy (1997), a huge tome sitting here on my bookshelf, notes, the first Gor books were passable Edgar Rice Burroughs pastiches, and that's the impression I came away with too. As a boy, I was a huge fan of ERB's John Carter of Mars stories and was looking for something else along those lines.
The Encyclopedia goes on to condemn later volumes in the series (which now total 34), noting that they "degenerate into extremely sexist, sadomasochistic pornography involving the ritual humiliation of women, and as a result have caused widespread offence." DAW, which published the series from volumes 7 through 25, apparently dropped Norman for this reason (Naughty Norman!), and the subsequent 9 volumes are only available in e-book editions.
As a collector and purveyor of vintage sci-fi and fantasy paperbacks, I happen to have several Gor books sitting in a pile here beside my office desk. I will be posting them to eBay soon. I have, on occasion, picked one up and opened it at random to read a paragraph or two.
Just a bit of curiosity, you see. Wondering if, in the later books, Norman is really as obsessed with sadomasochism as the critics contend. Maybe there's more to Gor? I mean, it is one of the longest running fantasy series of all time by a single author (1966 to the present: with the release this August of Plunder of Gor, it hit the half-century mark). Major sci-fi/fantasy publishers were behind the first 25 books — first Ballantine, then DAW. And those great, classic pulp covers by the likes of Boris Vallejo and Ken W. Kelly are bound to pique one's interest…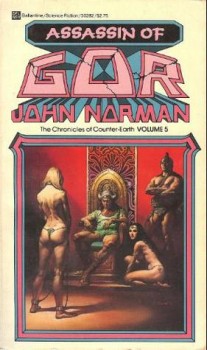 But — and I KID YOU NOT — every time I have done this, I have found myself reading about the protagonist showing a proud woman how to be submissive, breaking her to the collar, demonstrating to her that a woman's true fulfillment is found in slavery, etc. Really, what are the odds? And how much can a man possibly have to say about mouth gags and collars? Seriously, every book I've picked up, every page I've turned to — I begin to suspect that this is, indeed, the main preoccupation.
Now, I'm sure other things happen in the books — and I've read the Wikipedia entry to confirm this — there are plots that involve warring city-states and alien races. Somehow, though, I cannot open a Gor book without somehow landing right in the middle of this, ahem, icky stuff. Statistical analysis would therefore suggest that a substantial portion of these later volumes must indeed be given over to the Gorean philosophy of the sexes (and the books get thicker! Book 24 is 495 pages).
Every now and then, just for a laugh, I'll test that hypothesis again: pick up a Gor, open to random page, begin reading random paragraph. Yep, it's about collars.
And lest you think I'm exaggerating, I have today conducted the experiment and recorded the results. I picked up four Gor books, turned to four random pages, and copied out a few lines of what I read:
Book 16: Guardsman of Gor (1981) p. 175
I had amused myself thoroughly with the small beauty. Indeed, in that night, I gathered, she had been, for the first time, taught the full meaning of her collar. When she had entered the room she had been a woman who had been enslaved; when I had left the room she knew herself to be a woman who was a slave.
Book 22: Dancer of Gor (1985) p. 123
I recalled how Clarissa had, one evening at the house where we had been trained, early in our training, been, or pretended to have been, refractory, and how the other girls had disciplined her. She had then, the meaninglessness and absurdity of her little rebellion, or pretended rebellion, demonstrated to her, accepted, and then rejoiced in, her bondage. She had now learned that she was a slave, totally, and only, that.
Book 23: Renegades of Gor (1986) p. 68
Did she really think they feared her escape, she, within the palisade, shackled and naked?

"They might, too," I said, "consider that your display here, if you will pardon the expression, might enhance your chances of obtaining a redemption."

"Yes," she said, "that, too."

In the morning, of course, the girls outside, at the wall, might have a better chance. They would, by that time, I speculated, be bedraggled, and piteous, indeed. Still I did not think any of them, the Lady Temione here, or the others, outside, in these times, were likely, really, to get some fellow to redeem them.
Book 24: Vagabonds of Gor (1987) p. 321
Gags are sometimes used in conjunction with, but need not be, blindfolds, half-hoods and hoods. The modalities of these devices, of course, are different, as is known to slaves who are subjected to them. What these various devices do have in common is a tendency to induce a sense of great helplessness, which increases the slave's consciousness of male dominance, and, accordingly, her responsiveness to this dominance. To be sure, once the slave has learned her condition, or learned her collar, as the Goreans say, she has no doubt whatsoever of this dominance, and her subjection to it. The mere sight of a slave whip is then enough to make her juice. Gags, blindfolds, and such devices, then, may or may not be used, as the master wishes.
So, it is clear from those four samples what Norman is most obsessed with. Look closely. Do you see? It's commas. This is where all the commas missing from Cormac McCarthy wound up! Take this beauty of a sentence: "They would, by that time, I speculated, be bedraggled, and piteous, indeed." Sure, that sentence only has 5 commas, but it only has 12 words! That is almost a 1:2 comma-to-word ratio! Reading some of those sentences is like driving through the parking lot over at a local strip mart where they went crazy with the road bumps; every ten feet you have to slow down to, like, 1 mile per hour.
Not only does Norman, through his POV characters, seem to espouse a philosophy that subordinates women to men; this practice extends into his script, where clauses, adjectives, interjections — all are subordinated by the comma-collar to sentences that are too proud to allow their subjects' independence to freely flow! Your eyes want to make progress across the page, but he yanks back, it would seem, then, with these, and other, punctuations to, as it were, make you heel, and go slow.
Masochistic indeed.