Go Ahead. Judge The Starlit Wood by its Cover
Go Ahead. Judge The Starlit Wood by its Cover
We know not to judge a book by its cover, but sometimes it's just so hard. You look at a book and think, Wow, I need to take a look at that. As a writer or an editor, you dream of that perfect match, of that gripping cover that perfectly conveys the story you're eager to share, that makes people want to pick up your book. With The Starlit Wood: New Fairy Tales, we feel we've been fortunate enough to get just that. We're so thrilled with every element of the packaging of The Starlit Wood, so we wanted to share a bit about the process of creating such a lovely book.
The Starlit Wood is our love letter to fairy tales. The book is a cross-genre anthology of fairy tale retellings, featuring everything from science fiction, western, and post-apocalyptic, to traditional fantasy and contemporary horror. Retellings of lesser-known fairy tales takes place alongside traditional ones, which makes for a really unique experience where the familiar and the unfamiliar co-exist. The book features established authors like Naomi Novik, Garth Nix, Seanan McGuire, and Margo Lanagan, as well as rising stars like Charlie Jane Anders, Sofia Samatar, and Daryl Gregory. The full table of contents is here.
While it was unquestionably critical that the stories within the pages be remarkable, it was also important to us that The Starlit Wood should be a beautiful physical object. We wanted it to be something lovely that would be treasured on bookshelves. We wanted it to evoke the sense of classic fairy tale volumes, those enchanting, lavishly adorned and illustrated books many of us grew up reading. More than anything, we wanted to give a sense of the past of fairy tales intertwining with their present and their future.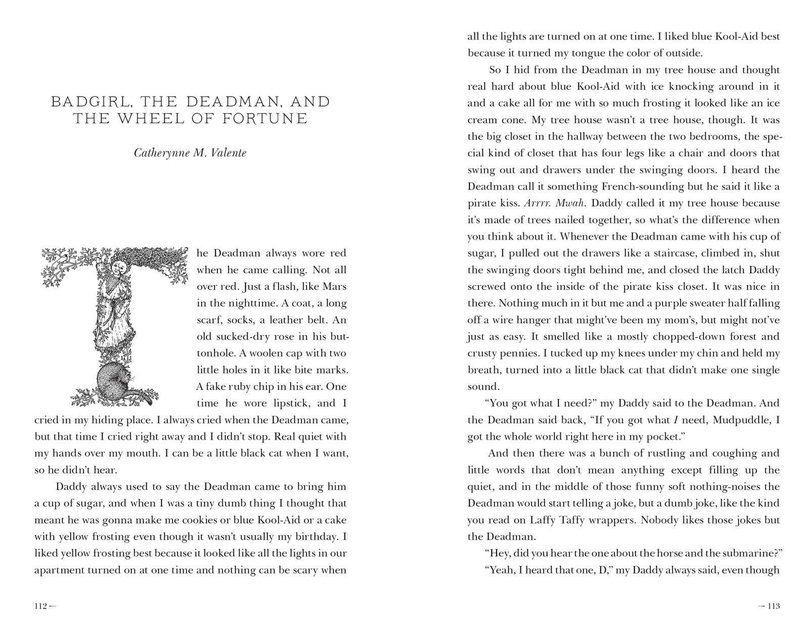 We wanted a cover image that would evoke the mystery and magic of a fairy tale woods, but would also integrate the SFnal elements that make The Starlit Wood so unique, a cover that felt like a fairy tale, but from a different angle. Saga Press's art director Michael McCartney ran with our vision, and brought in artist Benjamin Carré to create a mysterious tree with technological components, something that would showcase the magical and the mechanical joined together. Once the cover art was finalized, Michael designed a beautiful leather wraparound design, to make this book truly feel like a volume of classic fairy tales.
But we weren't done. We didn't just want the book to look amazing, we wanted it to feel amazing. The Saga team was right there with us. Production managers Elizabeth Blake-Linn and Tatyana Rosalia pulled off one of the most gorgeous packages we've ever seen, making The Starlit Wood a paper-over-board book with embossing on the leather, and giving it a luxurious soft touch matte finish.
We were almost there. Fairy tales are a very visual medium, and since we had great design work on the outside of the book, it only made sense to have it on the page too. We were thrilled with the choice of Stella Björg to do illustrations for the first letter of each story, incorporating key elements from that tale. The final effect: The Starlit Wood feels wonderfully like an illuminated manuscript.
What we have in the end is a book that is beautiful from every angle, inside and out. Combined with a table of contents we love, The Starlit Wood is everything we dreamed of when we started the project.
So go ahead. Judge The Starlit Wood by its cover. We couldn't be prouder of the message this cover sends.
---
Dominik Parisien & Navah Wolfe are the editors of The Starlit Wood: New Fairy Tales, published by Saga Press on October 18, 2016. Get more details here.