Future Treasures: The Fall of the House of Cabal by Jonathan L. Howard
Future Treasures: The Fall of the House of Cabal by Jonathan L. Howard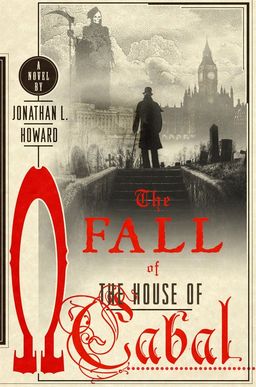 Jonathan is a marvelously talented fantasy author. We published two of his stories featuring Kyth the Taker, the cunning and resourceful thief whose commissions somehow always involve her in sorcerous intrigue: "The Beautiful Corridor," (Black Gate 13) and its sequel, "The Shuttered Temple" (BG 15).
His most recent novel was Carter & Lovecraft (October 2015). He published his first novel, Johannes Cabal the Necromancer, in 2009; his newest novel The Fall of the House of Cabal is the fifth to feature gentleman necromancer Johannes Cabal and his comrades, including his vampiric brother, Horst. It arrives in hardcover from Thomas Dunne Books at the end of the month.
Johannes Cabal, a necromancer of some little infamy, has come into possession of a vital clue that may lead him to his ultimate goal: a cure for death. The path is vague, however, and certainly treacherous as it takes him into strange territories that, quite literally, no one has ever seen before. The task is too dangerous to venture upon alone, so he must seek assistance, comrades for the coming travails.

So assisted ― ably and otherwise ― by his vampiric brother, Horst, and by the kindly accompaniment of a criminologist and a devil, he will encounter ruins and diableries, mystery and murder, the depths of the lowest pit and a city of horrors. London, to be exact.

Yet even though Cabal has risked such peril believing he understands the dangers he faces, he is still underestimating them. He is walking into a trap of such arcane complexity that even the one who drew him there has no idea of its true terrors. As the snare closes slowly and subtly around them, it may be that there will be no survivors at all.
We've covered most of Jonathan's recent releases here at Black Gate — including his article on writing the Johannes Cabal series, "Some Little Infamy."
Johannes Cabal: The Fear Institute
The Brothers Cabal
Carter & Lovecraft
Some Little Infamy by Jonathan L. Howard
Katya's World
John Joseph Adams Interviews Jonathan L. Howard
The Fall of the House of Cabal will be published by Thomas Dunne Books on September 27, 2016. It is 384 pages, priced at $25.99 in hardcover and $12.99 for the digital version.
See all of our recent coverage of the best in upcoming fantasy here.