October 2016 Analog Now on Sale
October 2016 Analog Now on Sale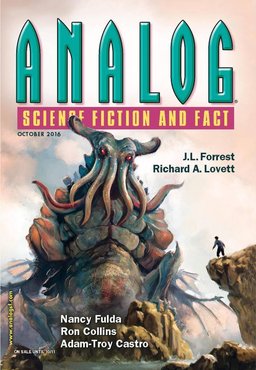 People have been watching Trevor Qachari's rein as the new editor of Analog pretty closely. It's been four years exactly since he took over from Stanley Schmidt in September of 2012, plenty of time to get a sense of his editorial taste.
One thing I've noticed is that Trevor is a bit more experimental than Stan, especially in his willingness to blend genres a little. The October issue features a pair of stories that playfully mix SF and pulp thrillers, including perhaps the last thing I would have expected to see in Analog: a Shadow homage by Robert R. Chase, "Revenge of the Invisible Man." Here's a snippet from Jason McGregor's review at Tangent Online.
The Shadow gets on the trail of the Invisible Man. Sort of. In the near future, a company has been working on human invisibility and has succeeded in making a human invisible — but not in getting rich off it, which means the guinea pig gets no reward either and, worse, it turns out not to be reversible. So the heads of the company start falling down stairs and having their throats cut. This prompts a call to a mysterious Power who sends his agent, our protagonist, in to discover how the invisible man has been committing these crimes from the locked room in which the company holds him. The agent adopts the name Kent Allard (one of the Shadow's real names) for this mission (which… seems likely to be one of a series) and proceeds to investigate. The strongest feature of this story is probably the direct, sinewy prose… a good read.
While we're at it, he's a sample from Jason's review of the other SF thriller, Adam-Troy Castro's novella "The Soul Behind the Face."
Draiken is a shadowy man with a shrouded past. He's been in hiding from some very powerful, bad, angry people but has decided to take the fight to them. This involves recruiting a few people to perform seemingly minor tasks which should combine to create a larger effect on his enemies. One of the key people in the plan is a woman who lives in a cubicle/vat most of her days, only coming out for pay to completely become whatever personality she's hired to be, in this case, a middle-aged/elderly wife. With her, he pretends to be a businessman on the cusp of retirement, as he tries to avoid all the high-tech and extremely detailed surveillance and semi-AI algorithms and, especially, a very persistent and engaged cop, in order to observe the status of his unfolding plan. Matters get more intense when the cop debates whether to throw him into a dark hole from which he'll never return.
Read Jason's complete review here.
Here's the complete Table of Contents.
NOVELLA
"The Soul Behind the Face" by Adam-Troy Castro
NOVELETTES
"Progenesis" by J. L. Forrest
"Revenge of the Invisible Man" by Robert R. Chase
SHORT STORIES
"Angles of Incidence" by Nancy Fulda
"The Blue Lady of Entanglement Chamber 1" by Ron Collins
"Mom in the Moon" by Muri McCage
SCIENCE FACT
"A Mind of Its Own," Part II, Edward M. Lerner
POEM
Terran Mythology, Shannon Connor Winward
READER'S DEPARTMENTS
GUEST EDITORIAL: "Haunting Echoes," Stanley Schmidt
BIOLOG: Ron Collins, by Richard A. Lovett
IN TIMES TO COME
THE ALTERNATE VIEW, John G. Cramer
THE REFERENCE LIBRARY, Don Sakers
BRASS TACKS
UPCOMING EVENTS, Anthony Lewis
Analog Science Fiction and Fact is edited by Trevor Qachari and published by Dell Magazines. The cover price is $4.99 for 112 pages; a one-year subscription is $34.97 (US) or $49.97 (International). It is also available in a variety of digital formats. Check out the complete TOC, story excerpts, and additional free content at the website.
The October issue is on sale until October 11. The cover is by Sandeep Karunakaran.
We last covered Analog with the July/August 2016 issue.
Our September Magazine Rack is here. See all of our recent fantasy magazine coverage here.