July/August 2016 Analog Now on Sale
July/August 2016 Analog Now on Sale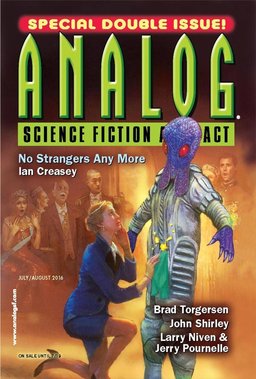 I love these big double issues of Analog. Chiefly because they have space for longer stories — and indeed, the latest double issue, July/August 2016, has two big novellas by Arlan Andrews, Sr. and Brad Torgersen.
In fact, this issue has several nice surprises, including fiction by Ian Creasey, John Shirley, Nick Wolven, and James Van Pelt — and a brand new short story by Larry Niven & Jerry Pournelle, "Story Night at the Stronghold." On top of that, there's a special feature by editor emeritus Stanley Schmidt, titled "THE END, or, Leaving the Reader Satisfied." Here's editor Trevor Quachri's teaser for the issue on the Analog website.
O, the double issue! I sing your praises! What can't you do? Present a lead story ab out a future where social media and augmented reality have converged with mixed results? Indeed, we have "No Strangers Any More," by Ian Creasey.

Can you give us not one but two novellas? Yes! When you take a path, it necessarily means there are other paths you cannot go down, and when humanity as a whole goes down one path, well . . . you'll see, in Brad R. Torgersen's "Purytans." We'll also look in on the travels of Arlan Andrews' Rist in "Fall."

What of material by luminaries like John Shirley, or Larry Niven & Jerry Pournelle? Indubitably! In fact, there will be both! See "Cory for Coriolis" and "Story Night at the Stronghold" for proof that your eyes do not deceive you!

Perhaps more short pieces, fiction and nonfiction alike, from authors such as Nick Wolven, Stanley Schmidt, James Van Pelt, Elisabeth R. Adams, Andrew Barton, Sean Vivier, Christina De La Rocha, and Karl Bunker? I believe we can accommodate you there, yes.

And columns. Oh the columns. Never will you see columns such as these again . . . except perhaps in the issue that follows.
All that for roughly the price of a paperback! How can you go wrong?
Here's the complete Table of Contents.
NOVELLAS
"Fall," Arlan Andrews, Sr.
NOVELETTES
"No Strangers Any More," Ian Creasey
"The Metal Demimonde," Nick Wolven
"Cory for Coriolis," John Shirley
SHORT STORIES
"PLEISTOCENE BRAINS," Christina De La Roch
"A VIOLENT WIND," Andrew Barton
"STORY NIGHT AT THE STRONGHOLD," Larry Niven & Jerry Pournelle
"MANDALAS ON THE 405," Elisabeth R. Adams
"THE BATTLE OF CERES," Karl Bunker
"FALLACIOUS," Sean Vivier
"DEATH OF A STARSHIP POET," James Van Pelt
SCIENCE FACT
"ENERGY FOR THE FUTURE: Solar-Derived Fuels, Artificial Leaves, and Electricity-Eating Microbes that Poop Out Gasoline," Richard A. Lovett
POEM
SOFT COLLISION, Scott E. Green & Herb Kauderer
READER'S DEPARTMENTS
GUEST EDITORIAL: "EARTHRISE," "THE BLUE MARBLE," AND THE NEW SKUNK WORKS, Richard A. Lovett
ANALYTICAL LABORATORY RESULTS
BIOLOG: ANDREW BARTON, Richard A. Lovett
IN TIMES TO COME
THE ALTERNATE VIEW, Richard A. Lovett
THE REFERENCE LIBRARY, Don Sakers
BRASS TACKS
UPCOMING EVENTS, Anthony Lewis
See the complete issue contents here.
Analog Science Fiction and Fact is edited by Trevor Qachari and published by Dell Magazines. The cover price is $7.99 for 192 pages ($4.99 for 112 pages for non-double issues); a one-year subscription is $34.97 (US) or $49.97 (International). It is also available in a variety of digital formats. Check out the complete TOC, story excerpts, and additional free content at the website.
The July/August issue is on sale until July 19. The cover is by Joel Iskowitz.
We last covered Analog with the June 2016 issue .
Our Late June Magazine Rack is here. See all of our recent fantasy magazine coverage here.