Future Treasures: Carter & Lovecraft by Jonathan L. Howard
Future Treasures: Carter & Lovecraft by Jonathan L. Howard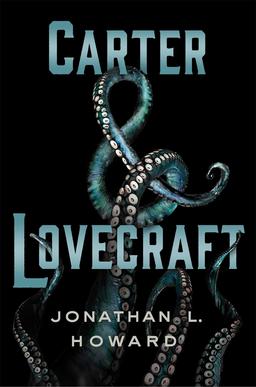 One of the most popular authors in the later issues of the print version of Black Gate was Jonathan L. Howard. His first story for us, about a young thief named Kyth hired to penetrate a deadly tomb, was filled with surprises — not least of which was the amiable lich who congratulated Kyth when she reached the heart of his lair. It was titled "The Beautiful Corridor," and its sequel, "The Shuttered Temple," appeared in BG 15. Jonathan has had a very successful career as a fantasy novelist since those early days, and his latest novel, about a private detective who teams with the last descendant of H.P. Lovecraft to investigate some very bizarre crimes indeed, arrives in October. It's one of the most anticipated titles of fall for me.
Daniel Carter used to be a homicide detective, but his last case — the hunt for a serial killer — went wrong in strange ways and soured the job for him. Now he's a private investigator trying to live a quiet life. Strangeness, however, has not finished with him. First he inherits a bookstore in Providence from someone he's never heard of, along with an indignant bookseller who doesn't want a new boss. She's Emily Lovecraft, the last known descendant of H.P. Lovecraft, the writer from Providence who told tales of the Great Old Ones and the Elder Gods, creatures and entities beyond the understanding of man. Then people start dying in impossible ways, and while Carter doesn't want to be involved, but he's beginning to suspect that someone else wants him to be. As he reluctantly investigates, he discovers that Lovecraft's tales were more than just fiction, and he must accept another unexpected, and far more unwanted inheritance.
Jonathan L. Howard's previous novels include the four volumes in the Johannes Cabal series (Johannes Cabal the Necromancer, Johannes Cabal the Detective, The Fear Institute, and The Brothers Cabal), and The Russalka Chronicles, including Katya's World. Our previous coverage includes Jonathan's article on writing the Johannes Cabel series, and his interview with John Joseph Adams. Carter & Lovecraft will be published by Thomas Dunne Books on October 20, 2015. It is 320 pages, priced at $25.99 in hardcover and $12.99 for the digital edition. See more details at Jonathan's website.