Is Robert Reed the New Century's Most Compelling SF Voice?
Is Robert Reed the New Century's Most Compelling SF Voice?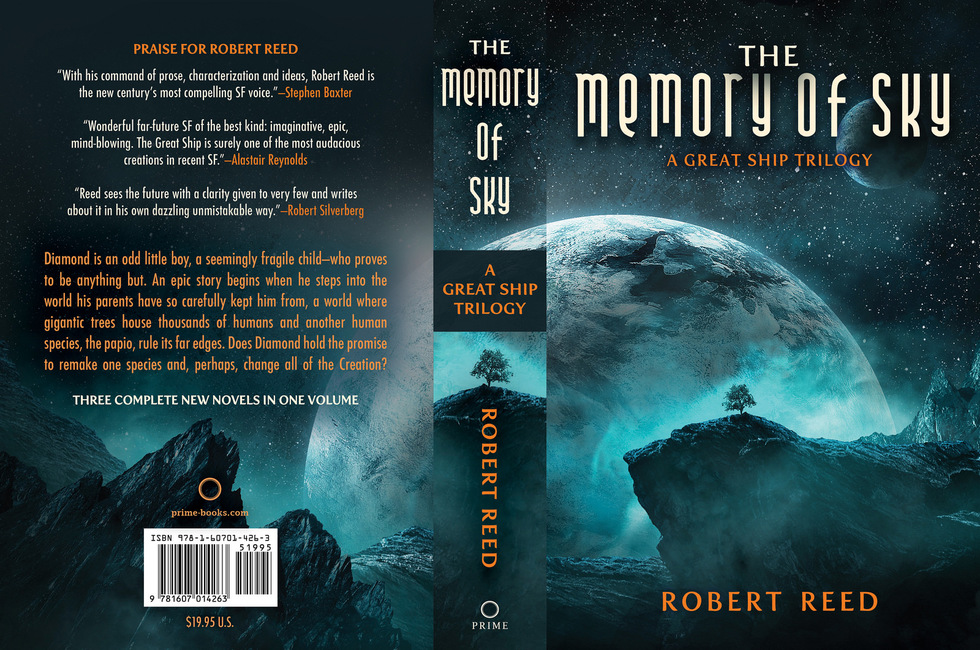 Last month I finally got around to picking up a copy of Robert Reed's massive collection The Greatship (which I talked about here.) It collects 11 tales — plus a bunch of new connecting material — in his Greatship saga, set on a vast spaceship relic that is larger than worlds, and which contains thousands of alien species.
I'm glad I had the chance to familiarize myself with the Greatship tales, as that came in handy last month at Worldcon in Kansas City. I attended the Asimov's SF group reading, hosted by editor Sheila Williams, and found it an insightful and entertaining hour, as writers James Patrick Kelly, Connie Willis, Steve Rasnic Tem, Mary Robinette Kowal, and Robert Reed all read from recent or upcoming tales published in the magazine. Robert Reed, whom Sheila calls the writer with the most stories in Asimov's ("by quite a bit"), read from an unpublished Greatships novella coming in the magazine next year, and it was totally captivating. It certainly helped pique my interest in the series, and it was pretty high to begin with.
[As the panel got started James Patrick Kelly exhorted the audience to "check out the new website — it's so much better than the old one!" Sheila, with an uncomfortable glance at me, said she didn't feel right disparaging the old website, "since the person who designed it is sitting in the audience." I helped Sheila launch the Asimov's website at SF Site roughly two decades ago, and in fact it was Rodger Turner who did most of the heavy lifting, so it certainly was no insult to me that they'd finally upgraded to a much superior design. I don't usually like to interrupt panels, but this time I was happy to shout out "Disparage away!"]
[Click the images for bigger versions.]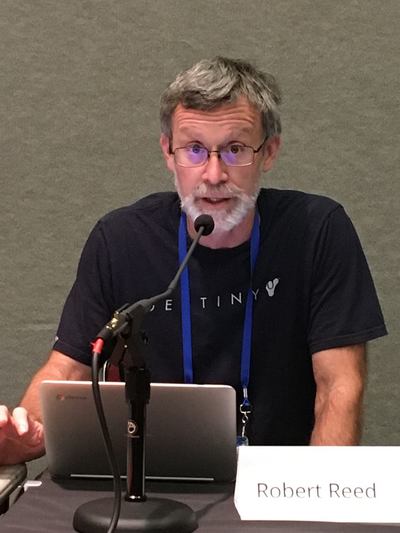 Robert Reed reads at Worldcon 2016
Needless to say, Reed has a reputation for being fairly prolific, especially in the pages of Asimov's. When I posted the above snapshot on my Facebook feed on August 19, Chicago SF writer Richard Chwedyk made this observation:
I believe there must be at least three Robert Reed clones working overtime. Every time I drop a pencil, I look up and there are four more Robert Reed novellas in print. Novellas, mind you! Novellas!
The two weeks after I return from Worldcon are usually spent tracking down those works that most intrigued me at the con. For example, after Connie's delightful reading I bought a copy of her monumental collection The Best of Connie Willis, and I'll definitely have more to say about that later. But I think it's safe to say that the work and the writer that fired my curiosity the most was Robert Reed and his Greatship saga, and over the last few days I've been cataloging them with an eye towards reading the entire series.
Turns out I have almost all of them all already, which is convenient. The IMDB lists 22 stories in the series, most of them collected in The Greatship. There are also three novels: Marrow, The Well of Stars, and The Memory of Sky. Here's the publishing details:
Marrow (Tor Books, 361 pages, hardcover [2000] and paperback [2001] both out of print; available in digital edition for $7.99]
The Well of Stars (Tor Books, 304 pages, hardcover [2005] and paperback [2007] both out of print; available in digital edition for $7.99]
The Memory of Sky (Prime Books, 624 pages, trade paperback [March 2014] out of print; available in digital edition for $6.99] — cover by Benoit Penaud
And here's the cover for Marrow, and the front and back cover of The Memory of Sky.
The Memory of Sky (full title: The Memory of Sky: A Great Ship Trilogy) is by far the largest of the three, and it contains three short novels, all published here for the first time:
Diamond
The Corona's Children
The Great Day
Reed has won a considerable number of accolades for the series, from some of the brightest lights in the genre. Here's a few samples:
"With his command of prose, characterization and ideas, Robert Reed is the new century's most compelling voice." — Stephen Baxter

"Marrow is relentless… A bold work by a visionary writer." — David Brin

"Wonderful far-future SF of the best kind: Imaginative, epic, mind-blowing." — Alastair Reynolds
For readers like me who fret about reading stories in the right order, Reed has provided a very handy sequence chart on the Connected Story Sequences page on his website. In fact, his entire website is worth checking out. It is here.
I've been in the market for a fresh and exciting space opera for some time, and the Greatships tales definitely look like they'll fit the bill. If you've tried them yourself, let me know what you think in the comments.
See all our recent coverage of the best in Series Fantasy here.