Goth Chick News: More Stranger Things – Yes Please!
Goth Chick News: More Stranger Things – Yes Please!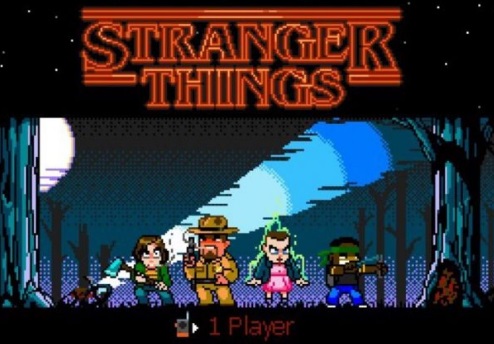 In a Goth Chick News first, I am hitting this same topic two weeks in a row. But from the comments last week, I'm pretty sure you won't mind.
It appears many of us went face down into the new Netflix sci-fi / horror offering Stranger Things and did not come up for air until all eight episodes of season one had been well and truly binged. Sticky-fingered and woozy, some of you even did a convenience store run then came back for a second go to be sure you hadn't missed anything.
The creators of our latest obsession, Matt and Ross Duffer (aka "The Duffer Brothers") have made no secret of the fact that they're hungry to create a season two and speaking with IGN last week (if by chance you haven't binged, there's mild spoilers there), they revealed that the next season will likely take place a year after the events of the finale, in order for them to tell the story the way they want to tell it.
And please Netflix, leave them alone and let them do their thing.
But what about that one-year gap, you ask? What will become of us after the third or fourth go through season one, when the air is thick with Aquanet and the withdraw symptoms make us believe we might be able to fit back into those leather pants?
Oh the humanity!
But fear not – the Duffers and Netflix have foreseen this horror and provided for it.
Now gather round…
First up, speaking with IGN the Duffers revealed they are considering a retro-style video game to bridge the story gap between seasons one and two, and it appears they got the idea from the fans.
"What I really want is a video game," Ross Duffer told IGN when he was asked if it was possible that a comic book would fill in the blanks between seasons. "Like an 8-bit… These fans, a lot of them have done this 8-bit video game art that's blowing my mind," added brother Matt.
Check out the mock up to see what Matt's referring to.
The Duffer Brothers noted they are pushing Netflix to sell Stranger Things-related merchandise asap as the company is already losing out to entrepreneurs, so it looks like the game and maybe even a comic are forthcoming.
Still, the Duffers, like all of us are particularly keen to see the show's soundtrack all wrapped up in one neat package; a venture which Netflix recently announced is on the way. Until then, the rad folks over at tunefind have compiled a tasty per-episode track list which can be loaded directly into your iTunes or Amazon music account, though here's hoping there will ultimately be a commemorative "mishmash" cassette for sale.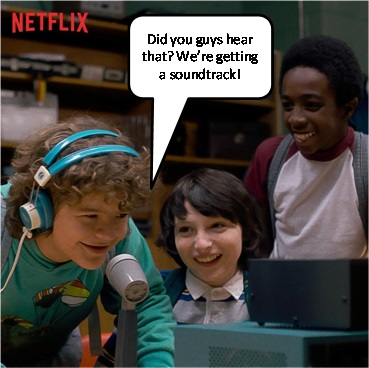 Netflix just announced that "Volume 1" of the Stranger Things soundtrack will be available digitally on Friday with the CD release planned for September 16 and "Volume 2" will be released digitally on August 19 with the CD following on September 23. This isn't an 80's compilation, but original music from Austin synth band Survive, which is what fans have been clamoring for apparently.
Next up, the independent artists at Redbubble are doing a brisk business in Stranger Things apparel, with a few of the tee-shirt designs like raphaelazz's silhouette and numnizzle's Hawkins Middle School headed toward instant collectable status (with the arms cut off of course).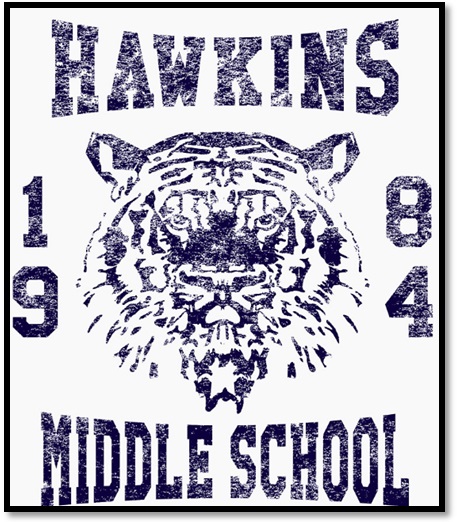 One can even imagine that Amazon has had a run on large-bulb Christmas lights in the middle of summer, effectively ruining their normally superb consumer trend data.
All this is pretty dang impressive when you consider that we just got our first look at Stranger Things less than a month ago. But can too much merchandising tarnish this super fan fav?  I think not considering excessive consumerism is one of the defining characteristics of the 1980's.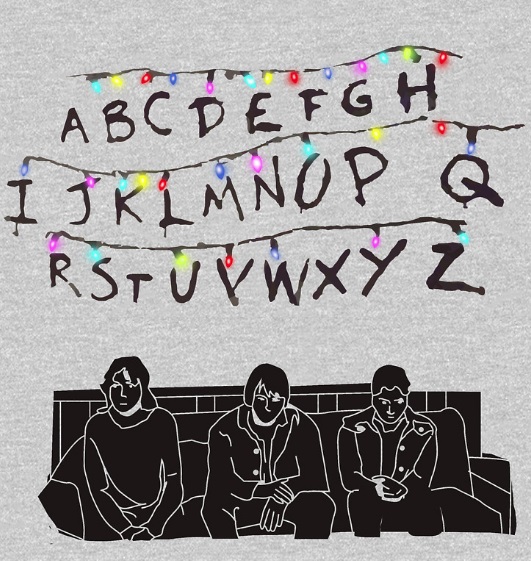 For now, I'm off to string the Black Gate offices with Christmas lights and paint the alphabet on John O's wall…
Clearly Netflix was unaware they targeted Stranger Things straight at the Black Gate constituency but I have (literally) dropped them a line to let them know.  So keep the comments coming (but no spoilers please).  You never know who is watching…