May Short Story Roundup
May Short Story Roundup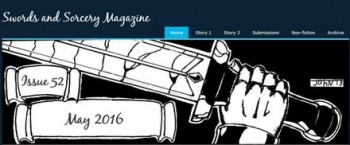 Well, sad to say, there are just not that many swords & sorcery stories to round up this month. The big guns, Heroic Fantasy Quarterly and Grimdark Magazine, (the latter delayed while they run the Kickstarter for their anthology, Evil Is A Matter of Perspective) were silent. Beneath Ceaseless Skies' two May issues didn't have anything that fit the S&S bill. None of the other magazines yielded stories to review either. Only the stalwart Swords and Sorcery Magazine came through, just like it does every single month for over four years now.
According to the online Merriam-Webster Dictionary, a skimmington is "a boisterous procession intended to ridicule an unfaithful spouse or a shrewish wife often with effigies and a mock serenade" and "The Skimmington" is the title of B.C. Nance's story in this month's issue of SSM. No one in town believes wealthy landowner Daegal's claim that his wife, Esma, ran out on him. Alden, a man who once loved the missing woman, convinces his fellow citizens to conduct a skimmington parade out to Daegal's estate. His hope is they can shame Daegal into revealing where Esma really is. While there's a supernatural element to the tale, it could just as easily be set in any small pre-industrial town. In any setting, though, it would remain a well told story with a haunting ending.
"Rivenrock," by Connor M. Perry (whose previous story in SSM, "Stragglers in the Cold," I enjoyed very much), tells of Elegia, the reborn Shepherd of Night, and her lover, Darza. Together, they are searching for the Shepherd's ancestral home, a place called Rivenrock. Their guide is a man named Averon Thorn whom neither fully trusts, even though he claims to be a supporter of their cause. The concluding spasm of violence is brutal and affecting, but it doesn't really provide a satisfying conclusion to the story.
Behind the events of "Rivenrock" is an ongoing struggle between the Shepherd of Night and the Lord of Morning. Each appears to have been recently reborn after having been gone for sometime. The Lord seems to have come back earlier and wields more temporal and magical power at present. The Shepherd is still finding her way, thus her need to reach Rivenrock. It's all very vague and makes following the story less than compelling.
So that's all there is to review this month. As usual, you should go read them and let the authors and editor know what you think.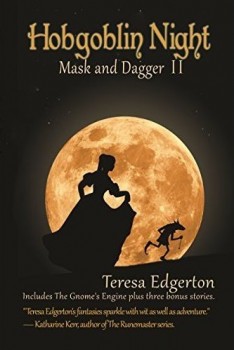 As I've run out of stories to write about, I'll spend a little time blathering about my plans for this space over the summer. There are several books I intend to read and review before the season's out. The first is Hobgoblin Night, the second volume in Teresa Edgerton's Mask and Dagger duology. Originally titled The Gnome's Engine (1991), it was reprinted last summer with its new name and now includes several short stories set in the same world. I reviewed the first book, the splendiferous Goblin Moon (1991), here at Black Gate two summers ago. If you haven't read it, and the idea of a bold Gothic heroine, a dashing Byronic hero, mad alchemists, vengeful fairies, and evil cultists appeal to you at all, you should do so now.
Next, I will return to the adventures of Jame of the Kencyrath in P.C. Hodgell's To Ride a Rathorn (2006). It's been almost two years since I reviewed the previous book, Seeker's Mask, and that's an unconscionably long time to have abandoned one of the best heroes and series in fantasy. Hodgell plans to conclude Chronicles of the Kencyrath soon. I still have another three books to read after Rathorn if I'm going to be ready for the final volume when it appears.
After those two books, I'd like to turn my attention to one of Jeffrey E. Barlough's Western Lights novels, Dark Sleeper. It's the first book in this series, set along the coast of the Pacific Northwest in a Victorian-like world where the Ice Age has never relented. Despite all the attention Black Gate has given Barlough with reviews and announcements of forthcoming books (go here to read those posts), he hasn't yet reached the audience he deserves.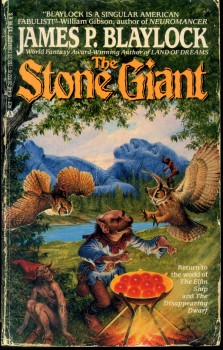 I reviewed the first two books in James Blaylock's Balumnia Trilogy, the delightful The Elfin Ship and The Disappearing Dwarf, two years ago and last year. Now it's finally time to bring a curtain down on the series with the third volume, really a prequel, The Stone Giants (1989). Returning to a world of slightly bonkers magicians, elfin ether-flyers, plenty of well-cooked meals, and good pipe tobacco, this book chronicles the early adventures of the reprobate Theophile Escargot.
And of course there will be at least another Short Story Roundup. With Heroic Fantasy Quarterly and Grimdark hitting the virtual stands soon, it should be a good one.
The only new fantasy novels I'm looking forward to are R. Scott Bakker's long delayed, The Great Ordeal (available next month) and Raphael Ordoñez's The King of Nightspore's Crown (TBA). I won't be reviewing Bakker's book as it's the third volume in the second series of Bakker's massive Second Apocalypse series, and there's no way it will make a lick of sense unless you've read them all. I have a real love-hate relationship with the books, but I can't imagine not following Bakker to the very end. If you haven't read them and like your fantasy grim and dark, I assure you nothing you've read is as grim and dark as these.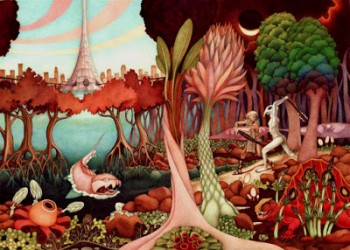 I will be reviewing Ordoñez's, on the other hand. I was as enthusiastic as I've ever been about his first novel, Dragonfly, in my review of it last year. It is at once a terrific homage to many of the fantasy and science fiction greats of the past, and one of the most original novels of recent years. In addition to his considerable writing talents, Ordoñez is an artist of great skill, and the cover art he has created for his books is wonderful and of rare strangeness in this age of terrible photoshopped covers.
There will be books filling in the gaps between these reviews, but they'll be whatever catches my eye a few days before deadline (yes, I am that kind of writer, more often than not). The books above, though, are the ones I am really looking forward to, and hope you are too.
---
Fletcher Vredenburgh reviews here at Black Gate most Tuesday mornings and at his own site, Swords & Sorcery: A Blog when his muse hits him. You can read the last short story roundup here.