New Treasures: The End of the End of Everything by Dale Bailey
New Treasures: The End of the End of Everything by Dale Bailey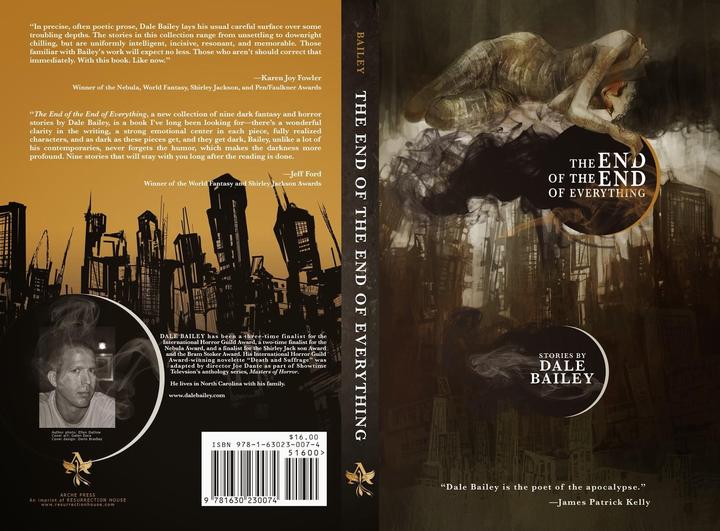 I don't keep on top of modern horror and dark fantasy as much as I should, but I do make an effort to get the collections everyone is talking about. That means Nathan Ballingrud's North American Lake Monsters, Laird Barron's The Beautiful Thing That Awaits Us All, John Langan's The Wide Carnivorous Sky and Other Monstrous Geographies, Simon Strantzas' Burnt Black Suns, and Stephen Graham Jones' After the People Lights Have Gone Off. And the last one on my list was The End of the End of Everything, Dale Bailey's second collection (following his 2003 Golden Gryphon volume The Resurrection Man's Legacy and Other Stories). I've been hearing great things about Bailey for over a decade, and I've been meaning to pick this one up for a while. But it was James Patrick Kelly's gonzo blurb that finally made me pull the trigger:
Here are nine gorgeously-written and closely-observed tales of ordinary people trying to hold it together when everything is falling apart. I've been a story aficionado for several decades now and I can't think of a more accomplished master of the fantastic short form. Prepare to hunt feral Girl Scouts! Pack your bags for a dinosaur safari! Invite friends to your end of the world party! Dale Bailey is the poet of the apocalypse; his stories are guaranteed to haunt you.
If I ever get around to writing a book — or anything, really — I want James Patrick Kelly writing all my blurbs.
The End of the End of Everything was published by Arche Press on April 9, 2015. It is 229 pages, priced at $16 in trade paperback and $3.99 for the digital version. The cover art is by Galan Dara. Click the image above for a bigger version.