Future Treasures: A Green and Ancient Light by Frederic S. Durbin
Future Treasures: A Green and Ancient Light by Frederic S. Durbin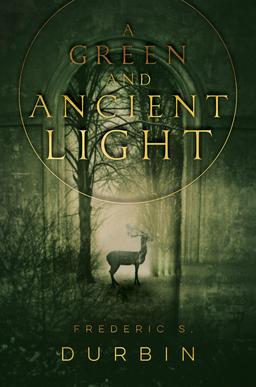 Fred Durbin is one of the most gifted fantasists at work today, and a new Durbin novel is a major event. Set in a world similar to our own, during a war that parallels World War II, A Green and Ancient Light is the tale of a boy sent to stay with his grandmother, until the crash of an enemy plane disrupts his idyllic summer and leads him to discover a riddle in the sacred grove of ruins behind his grandmother's house.
As planes darken the sky and cities burn in the ravages of war, a boy is sent away to the safety of an idyllic fishing village far from the front, to stay with the grandmother he does not know. But their tranquility is shattered by the crash of a bullet-riddled enemy plane that brings the war — and someone else — to their doorstep. Grandmother's mysterious friend, Mr. Girandole, who is far more than he seems, has appeared out of the night to ask Grandmother for help in doing the unthinkable.

In the forest near Grandmother's cottage lies a long-abandoned garden of fantastic statues, a grove of monsters, where sunlight sets the leaves aglow and the movement at the corner of your eye may just be fairy magic. Hidden within is a riddle that has lain unsolved for centuries — a riddle that contains the only solution to their impossible problem. To solve it will require courage, sacrifice, and friendship with the most unlikely allies.
Fred is also the author of The Star Shard and Dragonfly. His story "World's End" appeared in Black Gate 15. Patty Templeton interviewed Fred for us after the publication of The Star Shard, and Nick Ozment teamed with him to explore the magic of Halloween in Oz and Frederic S. Durbin Discuss Hallowe'en Monsters. We did a Cover Reveal for A Green and Ancient Light in November, including Fred's thoughts on the art.
A Green and Ancient Light will be published by Saga Press on June 7, 2016. It is 300 pages, priced at $24.99 in hardcover and $7.99 for the digital edition.