Future Treasures: Guile by Constance Cooper
Future Treasures: Guile by Constance Cooper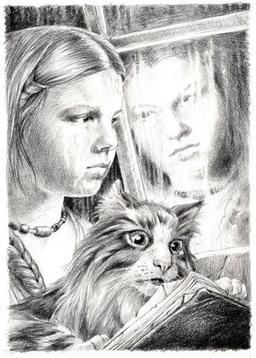 I frequently get excited by upcoming fantasy novels. But I rarely get as excited as I am by Guile, the debut fantasy novel from Constance Cooper, to be released next month by Clarion Books. Here's Constance, from her blog:
Guile started with a short story called "The Wily Thing" which was published in Black Gate magazine in 2008. It was well received…
It was indeed. Here's Lois Tilton at The Internet Review of Science Fiction:
Yonie and her cat LaRue make a meager living as Seers in one of the cheaper districts of Wicked Ford. Actually LaRue is the Seer, having been nearly drowned as a kitten. It is prolonged contact with the waters that make an object or a person guileful. Now a fisherman has brought Yonie an object, a ship's gong taken from a wrecked vessel, that has some very dangerous wiles, but the fisherman has disappeared before she can warn him about it — and be paid.

An absolute delight. The setting is fascinating and original, every detail crafted in prose with real charm… RECOMMENDED.
"The Wily Thing" originally appeared in Black Gate 12, and it's one of my favorite stories from that era of the magazine. The novel tells a brand new tale of Yonie and her magically gifted cat LaRue, set in the treacherous waters of Wicked Ford.
You can click on the back cover above to read the complete text. But to be honest, I rather preferred the longer summary from the back of the advance proof.
Don't Drink the Water in Wicked Ford!

The water throughout the Bad Bayous is thick with guile, a powerful substance that changes objects and people exposed to it, for better or worse.

Sixteen-year-old orphan Yonie Watereye ekes out a meager living posing as a "pearly," someone who can sense the presence of guile. Yonie's situation is precarious, to say the least: she isn't a pearly, and her "seeings" are performed by her cat.

Already rejected by her papa's swamp-dwelling family, Yonie decides to investigate her mother's mysterious upper-class background. When her High Town relatives rebuff her, Yonie suddenly has new mysteries to solve. Was her parents' death really an accident? Where is her grand-aunt Nettie? And what unknown person is making malevolent use of powerful guile-changed things — one of which is nearly fatal to Yonie herself?

Family ties, family secrets, a whisper of romance, and an array of guile-filled objects are artfully entwined in this layered tale of a young woman looking for her true family and her true home.

Constance Cooper's award-winning poetry and her short science fiction and fantasy stories have been published in periodicals and anthologies. Guile is her first novel. After working as a software engineer and as a web designer, she now divides her time between writing and taking care of her family. She lives with her husband and children in the San Francisco Bay area.
Guile will be published by Clarion Books on March 1, 2016. It is 376 pages, priced at $17.99 in hardcover, and $9.99 for the digital edition.
Read an excerpt from "The Wily Thing" here.