New Treasures: Mind Magic by Eileen Wilks
New Treasures: Mind Magic by Eileen Wilks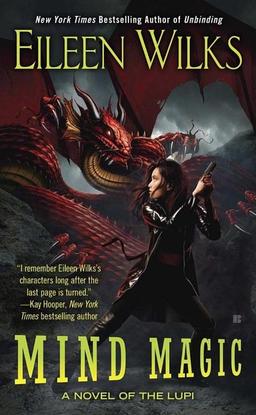 The first book in the World of the Lupi series, Tempting Danger, was published in October, 2004. It was Wilks' debut novel, and it launched a bestselling series that has vaulted her to the forefront of the urban fantasy genre. The latest volume, Mind Magic, is the 12th in the series (not including the various novellas and short stories she's produced over the last decade), and it sees FBI agent Lily Yu temporarily benched after the dangerous lessons in mindspeech she's received from the black dragon.
FBI agent Lily Yu's mind is a dangerous place to be in the latest Novel of the Lupi…

Thanks to the mindspeech lessons she's receiving from the black dragon, Lily is temporarily benched from Unit Twelve — until her brain acclimates and the risk of total burnout passes. At least she has her new husband, lupi Rule Turner, to keep her occupied.

But when her mentor calls in a favor and sends Lily to a murder scene, she's suddenly back on active status — despite the hallucinations she can't keep at bay. With one touch, Lily knows the man was killed by magic, but her senses don't warn her how far the conspiracy goes…

A shadowy force within the government wants to take Unit Twelve down, and they don't mind killing to achieve their goal. With none of her usual resources, Lily is up against impossible odds — because with her mind in disarray, she can't trust anything she sees.
Mind Magic was published by Berkley on November 3, 2015. It is 416 pages, priced at $7.99 for both the digital and print editions.