Cover Reveal: Clockwork Canada: Steampunk Fiction edited by Dominik Parisien
Cover Reveal: Clockwork Canada: Steampunk Fiction edited by Dominik Parisien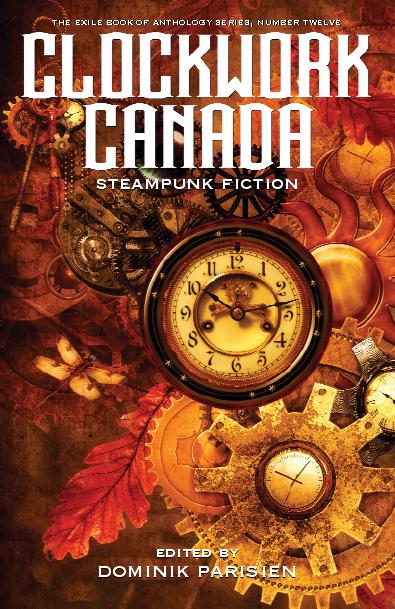 You know how upcoming movies are nothing but boring press releases and studio gossip until the trailer arrives, and suddenly they're HOLY COW THIS LOOKS FANTASTIC I WANT TO SEE THIS RIGHT NOW??
I'm the same with with book covers. Upcoming books aren't real until I see the cover. And then I want them IMMEDIATELY.
That's especially true of the upcoming Clockwork Canada, edited by Dominik Parisien and scheduled to be released by Exile Editions in May 2016. This collection of steampunk stories set in Canada features stories by some of the brightest stars of Canadian genre fiction. Check out Steve Menard's dynamite cover above, and see the complete description and Table of Contents below.
Here's the book description:
Welcome to an alternate Canada, where steam technology and the wonders and horrors of the mechanical age have reshaped the past into something both wholly familiar yet compellingly different. These fifteen supercharged all-new tales reimagine Canadian historical events, explore alternate Canadas, and gather inspiration from the northern landscape to make us wonder: what if history had gone a different way?

Experience steam-powered buffalo women roaming the plains; join extraordinary men and women striking out on their own or striving to build communities; marvel as giant rampaging spirits are thwarted by a miniscule timepiece; cringe when a great clock chimes and the Seven O'Clock Man appears to terrorize a village in Quebec; witness a Maritime scientist develop a deadly weapon that could change the course of the American Civil War.

Anachronistic technologies, retro-futuristic inventions, alternative history, fantasy, horror, historical fiction, and other branches of speculative fiction all culminate in this uniquely Canadian search for identity.
The book has already accumulated some stellar blurbs:
Steampunk with a Canadian accent – in Clockwork Canada Dominik Parisien has given us a wonderful new way to look at not just Steampunk but also some of the best new Canadian fiction being written. Full of adventure, surprise, unusual inventions and, of course, steam, this anthology will make you remember why you fell in love with Steampunk in the first place.
— Ann VanderMeer, Hugo, World Fantasy, and British Fantasy award winning editor

This is Canadian fiction like you've never seen it before: a buzzing, crackling, supercharged assemblage of thrills and derring-do, secret histories, incredible machines and fantastical creatures. Prepare yourself for a wild ride through a landscape that's somehow recognizable and utterly, gloriously strange.
— Helen Marshall, World Fantasy Award and Shirley Jackson Award-winning author of Gifts For The One Who Comes After
And here's the complete ToC:
"La Clochemar" by Charlotte Ashley
"East Wind in Carrall Street" by Holly Schofield
"The Harpoonist" by Brent Nichols
"Crew 255" by Claire Humphrey
"The Curlicue Seahorse" by Chantal Boudreau
"Strange Things Done" by Michal Wojcik
"Buffalo Gals" by Colleen Anderson
"Our Chymical Séance" by Tony Pi
"The Seven O'Clock Man" by Kate Heartfield
"The Tunnels of Madness" by Harold R. Thompson
"Let Slip the Sluicegates of War, Hydro-Girl" by Terri Favro
"Equus" by Kate Story
"Gold Mountain" by Karin Lowachee
"Komagata Maru" by Rati Mehrotra
"Bones of Bronze, Limbs like Iron" by Rhea Rose
Clockwork Canada: Steampunk Fiction will be published by Exile Editions in May 2016 and will have a retail price of $19.95 CAD. The book should be available for online pre-order in a few days; check back here and we'll update with a link as soon as it's available.
See all our coverage of the best in upcoming fantasy here.