How to Get From Worldbuilding (or Research) to Story
How to Get From Worldbuilding (or Research) to Story
Worldbuilding is a thing.
People build Fantasy worlds for fun.
They've pretty much always done it, either collectively — like the storytellers who built Greek mythology and or theologians who created the medieval vision of Hell — or individually, like the quirky medieval mapmakers and of course Tolkien, and every modern GM who spends more time creating their world than playing in it, and every wannabe Fantasy author who loses themselves in the act of creation.
For a fictional world to live, however, somebody has to tramp its surface.
We need a Homer to dump Odysseus  on the Island of the Cyclops, Dante to have Virgil lead him through the Circles of Hell, and "John Mandeville" — whoever he really was — to take us to the Land of Prester John. Meanwhile, Tolkien must stop building and start writing, the GM has to assemble their players, and the modern wannabe Fantasy author has to…
Ah. That's the thing.
Once upon a time, you could just take your hero from A to B to C, picking up plot tokens or even just getting closer to the goal while having quirky adventures on the way. We now expect a little more from our authors.
How do you get from the cool world you just built — or researched — to an actual story?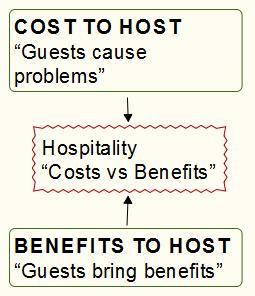 You can pick a protagonist and start "pantsing" your story.
However, this can go badly in two ways.
Either you lose momentum  spend a lot of time looking around to work out what features affect your protagonist — and find missing ones — or else you end up with a generic story with the world as mere backdrop — wicked stepfather anybody?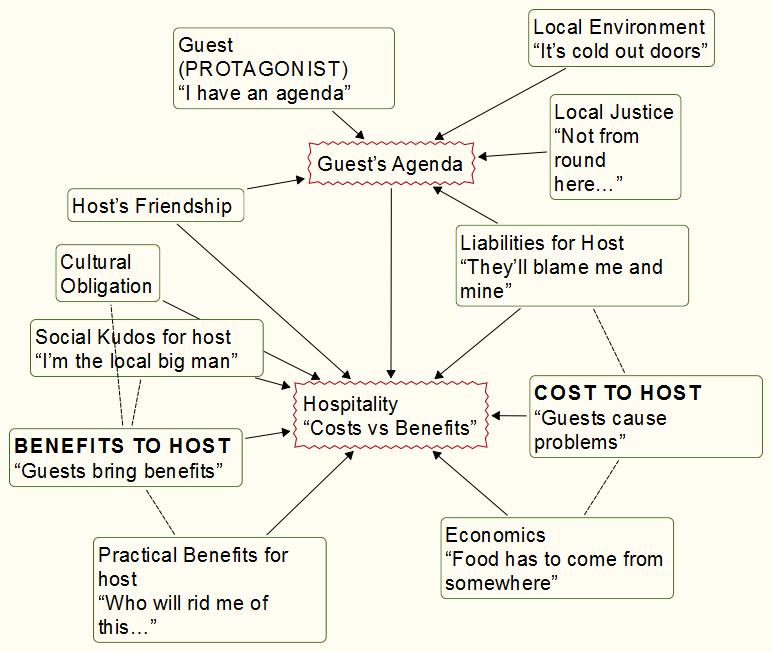 My approach saves time on the exploring and grounds my stories in the story world.
All I do is look for the conflicts — tensions — in my world.
That sounds awfully litswitsy, but actually it's an imaginative process done with a simple diagramming tool.
(In my case I use Scapple, which integrates happily with Scrivener and has the advantage of being so hacked down that you can't lose yourself in fiddling with the look.)
I call this a Conflict Diagram and it's built on just two concepts:
"Player" (normal box) — Any person,  group, thing, force that affects the world and people in it. Players usually have obvious tags (or Aspects if you like FATE).
"Bone of Contention" (jagged box) — Whatever Players struggle over, typically for possession or control.
I use arrows to connect them, so for example — going back to that article I wrote on hospitality in the Early Middle Ages —   if you want to stay in the provinces, you need to be somebody's guest. This is complicated! So my first step is to show Hospitality as the Bone of Contention between Costs and Benefits to the host (see Fig A, above left).
On its own, that diagram  is a little banal; the kind of Power Point slide you see at work and you have to pretend to consider deeply while a senior manager explains the exciting new concept in making you work harder for less.
However, this is just a jumping off point for exploring your story world. A few minutes tinkering gave me a far, far richer picture (see Fig B, above right). I've used dotted lines to indicate connected players.
(EDIT: The point of this process is to explore your story world.  The resulting diagram only has to make sense to you, and you will rarely look back at it because in creating it, you have assimilated the information.)
It's still generic. Like the devil, the story is in the details.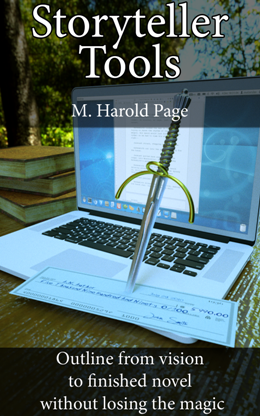 Let's imagine a knight on a revenge quest.
He's out to kill Lord D'Astardly who, among other things, has wounded him and robbed him of his armour. He finds hospitality with an impoverished knight who has an attractive daughter. The snag is that Lord D'Astardly is the overlord, so if our heroic knight has a go at Lord D and fails, the host will be in trouble.
This gives us a much more complex picture (see Fig C, above left)! Once we have the conflicts, the story almost tells itself as the players play out their different agendas.
As I wrote this, I realised I was replicating a half-remembered King Arthur story, the Knight of the Golden Falcon. The impoverished host lends our hero some old armour so he can take part in a tournament in which he defeats the Lord D. However, creating the diagram shows us that things are far more complicated.
The host won't want his daughter carried off or debauched by a down-on-his-luck knight errant. Nor will he be keen on being associated with a failed attempt to take out Lord D. Finally, entertaining is expensive, as is that old armour of his (which is also a badge of status he would rather not lose — but that's for another diagram.)
Setting out a Conflict Diagram is itself a creative act; it's a way to explore an story world, not document it. It's fine if some of the details stay in your head. In fact, one you've drawn a diagram you may not even need to go back to it.
All that matters is that you've equipped yourself to tell a story or GM an adventure grounded in the culture and society of your world.
As for the writing… well you might want to take a look at my book Storyteller Tools: Outline from vision to finished novel without losing the magic.
---
M Harold Page is the sword-wielding author of books like Swords vs Tanks (Charles Stross: "Holy ****!"). He has sworn to put the Heavy Metal back into any genre foolish enough to cross his path.