The Other Sax Rohmer
The Other Sax Rohmer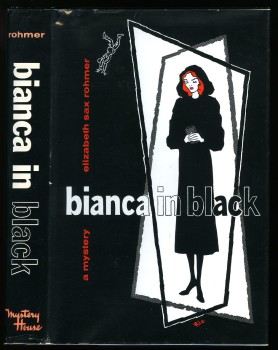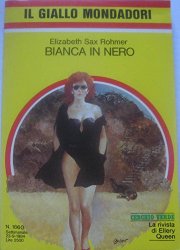 I recently penned an article examining the possibility that four privately-printed titles by The Theosophical Society of London might have been the work of a young Sax Rohmer since he and the author of the four theosophical works were both born in the UK as Arthur Henry Ward in 1883. Rohmer shared a lifelong interest in theosophy and occasionally wrote non-fiction pieces on the topic and other occult interests. The current article is concerned with a second mystery writer with the name Sax Rohmer or, more correctly stated, Elizabeth Sax Rohmer.
Credited on the back of her lone novel as the daughter of Sax Rohmer, Elizabeth was in fact his wife. Born Rose Elizabeth Knox into a family of Music Hall entertainers, her brother Teddy was one of The Crazy Gang whose influence in British comedy ranged from The Goon Show to Monty Python. While never as prolific as her husband, Elizabeth penned at least two short stories, "Spikey" and " 'arker" under the name Lisbeth Knox in 1924 and 1932, respectively. Under the name Elizabeth Sax Rohmer, she scripted a number of radio and television scripts with her husband. Sadly, no copies of the programs survive and her short fiction remains obscure.
Elizabeth Sax Rohmer's lone novel, Bianca in Black was published in 1958. At the time, her husband was battling poor health and involved in a protracted court case over his literary rights. Strapped for cash, Elizabeth went to work on a novel herself for Thomas Bouregy's Mystery House imprint in the US and for Ryerson Press in Canada. A paperback edition by Airmont would follow four years later. Elizabeth acknowledged that her husband helped her with the story and writing of the book. While it is clearly his wife's work primarily, Sax Rohmer's hand is evident in certain aspects. The story itself has some slight echoes of his 1954 mystery, The Moon is Red.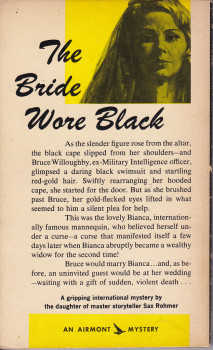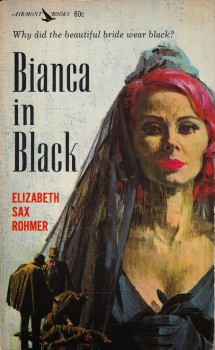 Bianca in Black concerns American private investigator, Bruce Willoughby who meets renowned fashion model, Bianca (notorious for only wearing black) on the Riviera just before her wedding. Bianca's ever present entourage includes fashion designer Natalie Faure, her assistant Rimmy, and two physicians – Dr. Norris Scott and Dr. Emil Goetz, among others. Dr. Scott is an acquaintance of Bruce Willoughby's from the Second World War. Bruce is smitten with Bianca at first sight. Her red hair and striking beauty are complemented by an uncommon charisma that unavoidably draws men to her.
Tragedy soon strikes and Bianca's newlywed husband is killed in a mysterious accident just hours after the ceremony. Bruce is among those questioned by the French police. Six months later, the case is still open when Bianca weds again. Once more, her newlywed husband dies mysteriously just hours after the ceremony. The press has a field day with the scandal and labels Bianca "the Black Widow." While the media enjoys nothing more than seeing a celebrity fall from grace, Bruce digs further in  Bianca's background and discovers there is more than one scandal in her closet.
The former Bianca Desmond was born of bohemian parents who died tragically when she was young. Her father was an artist and her mother his figure model and young Bianca followed in their footsteps. She achieved notoriety posing nude in a chapel for French artist, Rene Artois when she was only sixteen years old. Bianca and Rene soon wed, but he proved a jealous and physically abusive husband. Rene committed suicide upon learning his young wife was posing for and sleeping with other artists. Rene left behind a suicide note where he cursed Bianca to never know happiness as another man's wife.
Much of the book is concerned thematically with the concept that the dead may influence the living. The Black Curse that follows Bianca is as much on her mind as her Catholic guilt over her sins and a belief she consequently deserves a life of misery. Bruce Willoughby suggests more than once that Natalie Faure may have been a reincarnation of Catherine de Medici. Longtime readers of Sax Rohmer's work will be aware of his fascination with the Medici family and may recall his short-lived villainess, Madame de Medici who was the link between the Paul Harley and "Red" Kerry detective series.
Bianca's second husband was Natalie's terminally ill nephew. An interesting subplot concerns the scandal caused by Dr. Goetz's belief that the terminally ill should take suicide pills to ease their suffering and the suffering of their loved ones. This view, embraced by much of the medical community and caregivers of the elderly today, was treated as comparable to Nazi atrocities just over a half century ago.
It should shock no one that in the midst of her brief marriages, Bianca takes up with Bruce Willoughby. What is frustrating is that Bruce is convinced he is in love with Bianca (rather than simply infatuated with her beauty). He never fully trusts her as he fears she may be mentally ill and killing her husbands herself. This doesn't stop him from moving forward with tying the knot with her as soon as Husband #4 is dead and buried. At no point is the likelihood of a happy committed marriage between a conventional American male and an emotionally abused bohemian free spirit like Bianca ever addressed. This oversight aside, the book is better than some of her husband's late period works and deserves to be rediscovered, if only by cultists of her famous husband.
Bianca in Black remains Elizabeth Sax Rohmer's only novel published just a year before her husband's death. No further fiction came from her pen, but in 1972 she and her husband's protégé Cay Van Ash co-authored the only book-length biography of her husband, Master of Villainy. Elizabeth Sax Rohmer was a regular contributor to The Sax Rohmer Society's official publication, The Rohmer Review from its inception in 1968 until her death. The last issue of the magazine in 1981 carried a tribute to Mrs. Rohmer.
---
William Patrick Maynard was licensed by the Sax Rohmer Literary Estate to continue the Fu Manchu thrillers beginning with The Terror of Fu Manchu (2009; Black Coat Press) and The Destiny of Fu Manchu (2012; Black Coat Press). The Triumph of Fu Manchu is coming soon from Black Coat Press.