Goth Chick News:  Stop Your Grinnin' and Drop Your Linen – This is the Holiday Gift You've Been Searching For
Goth Chick News:  Stop Your Grinnin' and Drop Your Linen – This is the Holiday Gift You've Been Searching For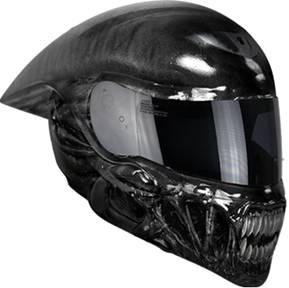 Some years ago, a previous profession put me in gruesomely close proximity to the outcomes of even "minor" motorcycle accidents. And though I've since moved on to focusing on movie corpses, this is likely due to the fact that the real things are just so…well… icky.
Therefore, though I'd never tell anyone else what they should do, I for one do not saddle up my sexy little blood-red 250 without donning every bit of safety gear first. And believe it or not, this makes me terminally uncool in Illinois where we have no mandatory helmet law for motorcyclists.
You know that cute little wave we bikers are supposed to give one another to acknowledge our mutual bad-assed-ness?
Nope, me either – because unhelmeted riders do not consider me in my helmet and Kevlar in 90 degree Chicago heat to be anything close to bad-assed.
That is – until now.
Predator Helmets Direct is a custom helmet house that has taken some very iconic movie monsters and turned them into the most impressive yet functional motorcycle helmets ever.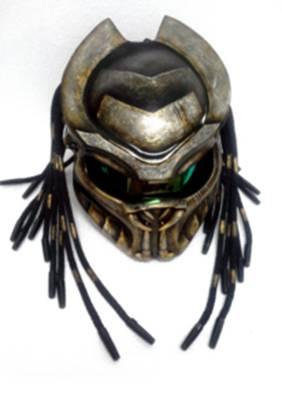 PHD sells helmets styled after the Classic Predator, the Berserker Predator, Alien, Hells Rider, Orc Dragon and Jason from Friday the 13th among others.
Each helmet is painstakingly hand-crafted by PHD artists and is therefore a one-of-a-kind, original conversation piece.
But PHD hasn't sacrificed your safety in making you a rolling movie prop. As they say on their website:
(Our) helmets are not only guaranteed to blow the minds of all who have the good fortune to see you cruising down the road, but these custom motorcycle helmets will protect your grey-matter from the road as well.

All of the prefabricated helmets that are used as the foundation for every one of our custom, hand crafted, made to order works of f-antastic awesomeness are DOT / ECE R22.05 certified.
Most helmets are also available in a variety of finishes and blast shields ensuring you are turned out in spine-tinglingly exquisite detail.
Plus, if I didn't already love these PHD folks already, they end with this:
In parting, we'd like to state out right that our helmets, every single one of them, are GENDER NEUTRAL for a reason: Badassdom Has No Prejudices. You simply are or you're not. Period.
Take that all you mid-life-crisis having, bandana'ed, tank-top-wearing, Hell's Angel wannabes.  My Alien helmet is already on order.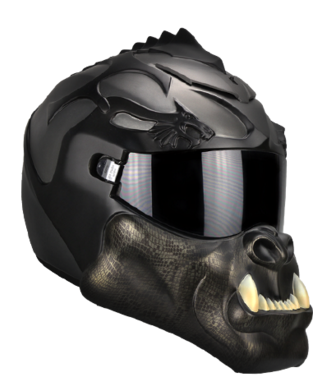 The Orc Helmet
Click HERE to see all Predator Helmet Direct's holiday pricing through the month of November.
Have a comment or question?  Post it here or drop a line to sue@blackgate.com