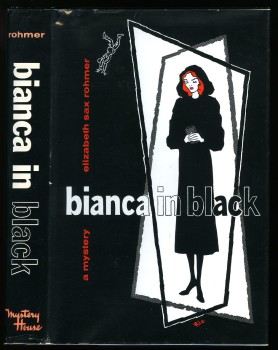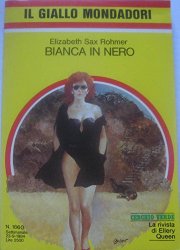 I recently penned an article examining the possibility that four privately-printed titles by The Theosophical Society of London might have been the work of a young Sax Rohmer since he and the author of the four theosophical works were both born in the UK as Arthur Henry Ward in 1883. Rohmer shared a lifelong interest in theosophy and occasionally wrote non-fiction pieces on the topic and other occult interests. The current article is concerned with a second mystery writer with the name Sax Rohmer or, more correctly stated, Elizabeth Sax Rohmer.
Credited on the back of her lone novel as the daughter of Sax Rohmer, Elizabeth was in fact his wife. Born Rose Elizabeth Knox into a family of Music Hall entertainers, her brother Teddy was one of The Crazy Gang whose influence in British comedy ranged from The Goon Show to Monty Python. While never as prolific as her husband, Elizabeth penned at least two short stories, "Spikey" and " 'arker" under the name Lisbeth Knox in 1924 and 1932, respectively. Under the name Elizabeth Sax Rohmer, she scripted a number of radio and television scripts with her husband. Sadly, no copies of the programs survive and her short fiction remains obscure.
Elizabeth Sax Rohmer's lone novel, Bianca in Black was published in 1958. At the time, her husband was battling poor health and involved in a protracted court case over his literary rights. Strapped for cash, Elizabeth went to work on a novel herself for Thomas Bouregy's Mystery House imprint in the US and for Ryerson Press in Canada. A paperback edition by Airmont would follow four years later. Elizabeth acknowledged that her husband helped her with the story and writing of the book. While it is clearly his wife's work primarily, Sax Rohmer's hand is evident in certain aspects. The story itself has some slight echoes of his 1954 mystery, The Moon is Red.