Vintage Treasures: Brother Assassin by Fred Saberhagen
Vintage Treasures: Brother Assassin by Fred Saberhagen
Fred Saberhagen's Berserker series was one of the most popular military SF series on the market during my formative reading years (the other, to which it was frequently compared, was Keith Laumer's Bolo.) Today the Berserker novels, with their desperate battles against ancient planet-destroying engines of destruction, would be called space opera, but back then we just called them science fiction.
The first book, Berserker, was a collection of short stories originally published in IF magazine between 1963-66. It was released by Ballantine Books in 1967. But it didn't become a series until the sequel, Brother Assassin, the first full fledged Berserker novel. It was released by Ballantine with a Richard Powers cover in January 1969 (above left).
This book has an interesting history. The early Berserker books were re-released by Ace Books in the late 70s with brand new covers, with Brother Assassin sporting the exceptionally fine piece by Michael Whelan (above middle). It was so fine, in fact, that the concept was stolen by Arbor House for the cover of the first book in Roger Zelazny's Merlin series, Trumps of Doom, seven years later (see below).
[Click any of the images for bigger versions.]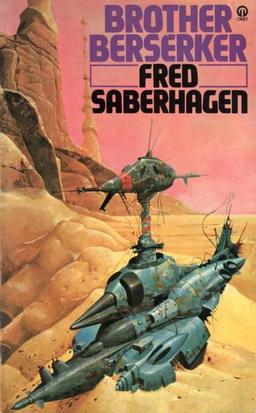 Michael Whelan brought a plagiarism suit against Arbor House due to the similarity between the two covers, and he won. The artist for the Arbor House edition was Andrew Rhodes.
Brother Assassin was reprinted in the UK by Orbit/Futura in 1975 under the title Brother Berserker, with a cover by Peter Jones (right)
It was reprinted again in the US in January 1997 by Tor, with a cover by Martin Andrews (above right).
Here's the back cover text for the 1967 Ballantine version.
It was a dead world, its surface burned off by mindless berserkers set to destroy life no matter where they found it. And burned along with the surface were nine out of ten of the people who had made it live.

But way down, under miles of rock, the one-tenth survived, fighting with fatalistic calm to protect the remnants of their existence.

For some of them, their shattering loss had been too much, and memory had mercifully gone. But for the majority, time was an endless twilight devoted to holding off the final, definitive attack from the berserkers.

Time was what they needed for help to get to Sirgol. Time they had. All time was open to the inhabitants of Sirgol.

And this made Time their worst enemy.
The Berserker series gradually grew over the next few years, and I eventually lost track of just how many books were in the series.
Here's a sample of some of the earlier volumes.
According to the ISFDB, the series eventually grew to a total of 17 volumes: 11 novels, 5 short story collections, and one anthology:
Berserker (1967) — Collection
Brother Assassin (1969)
Berserker's Planet (1975)
Berserker Man (1979)
The Ultimate Enemy (1979) — Collection
The Berserker Wars (1981) — Collection
Berserker Base (1985) — Anthology
The Berserker Throne (1985)
Berserker: Blue Death (1985)
The Berserker Attack (1987) — Collection
Berserker Lies (1991) — Collection
Berserker Kill (1993)
Berserker Fury (1997)
Shiva in Steel (1998)
Berserker Prime (2004)
Berserker's Star (2003)\
Rogue Berserker (2005)
Brother Assassin was originally published by Ballantine Books in January 1969. It is 222 pages, priced at $0.75. The cover is by Michael Whelan. A digital version was published by JSS Literary Productions on March 15, 2013.
See all of our recent Vintage Treasures here.