An Adventurer's Guide to the Middle Ages: Town Watch? Where?
An Adventurer's Guide to the Middle Ages: Town Watch? Where?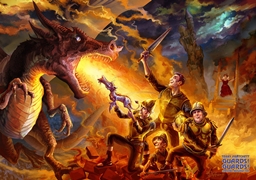 The first thing that Conan — or Locke Lamora, or Grey Mouser, or Vimes, or a D&D party  — would notice about a real medieval city would be the almost total absence of an Ankh Morpork-style town watch.
It's a stock trope: here come a dozen Keystone Cops town watch in their funny armour, to arrest the drunken barbarian or catch the thief. Only it's not like that in reality, or at least not quite like that in Later Medieval and Early Modern England, France, and Germany.
That's not a criticism. Fantasy writers must write what they will. Dickensian thief takers are plausible, and raise themes to do with policing and justice. However, if, like me, you write Historical Adventure Fiction , then you need to know how policing worked because integrity, and because somebody else will know and will gleefully correct you in reviews. (It's funny when your research is better than theirs though — and the one time I ever answered a review.)
It's actually quite hard to drill down to D&D level details about the medieval past. Scholars are usually more interested in the development of legal systems and local authority than what happens when Conan gets into a brawl. However, there are a few useful sources: This PhD thesis on trial by battle; The Time Traveller's Guide to Medieval England: A Handbook for Visitors to the Fourteenth Century (link); The Martial Ethic in Early Modern Germany: Civic Duty and the Right of Arms (link); plus various more antiquarian tomes on my research shelf.
And, there are some surprises beneath the crust of sometimes dry text. Let's kick off with what every aspiring thief and rogue needs to know…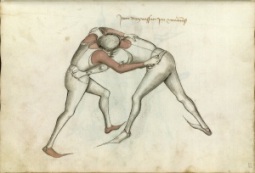 What happens if you commit a theft or assault in a medieval street during the day?
The locals and bystanders mob you.
In England it's called "Hue and Cry" and it's a legal obligation — if somebody shouts for help and nobody comes to their aid, the entire neighbourhood gets fined. Similar laws usually apply elsewhere.
Medieval folk are unbelievably tougher than modern folk. Their version of football is basically parkor-meets-structured-riot. Wrestling is a hobby. In some places, so is fencing with blunt swords or fighting with sticks (and keeping score by the blood on your shirt). In London, though touting a sword around is usually illegal, young men go out at night looking for a sword and buckler skirmish (presumably the swords are blunt, but it's hard to know for sure). In Germany, the householders are armed to the teeth and can be fined for not having a sword, and there's a tradition of ad hoc duels.  All the men around you wear daggers, in Germany — of course — some have swords, and all of them have some idea of how to use them.
Everybody is usually too busy kicking and punching you to call the watch. If you are a thief they may even hang you on the spot — it's a legal grey area, but there's a tradition of lynch justice and nobody gets into trouble for string-up a thief caught red-handed. Eventually, if you're still alive, they haul you off to the local jail, which in backwater towns may just stocks or a wooden cage  (feeling vulnerable yet?). They may actually call the watch at this point, to help with the hauling — we'll get to them.
Suppose instead you get into a running fight? That's when people do call the watch, if they haven't heard the noise and come running.  By this time the locals have probably also grabbed sticks and shovels and joined in to protect their property (in Germany, there's a good chance they'll have polearms from the neighbourhood armoury — oh yes, they had these …)
The watch, however, only turns out to be between one and six men.
In France in royal domains  they are "sergeants", highly corruptible non-nobles appointed by a scary-by-medieval-standards centralising royal government system, as close to an actual police force as you can get at the time (which is not very).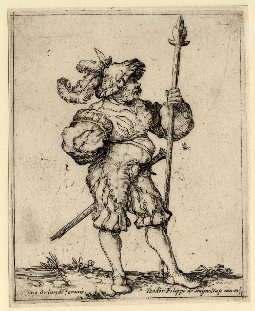 In England they are actually called "watchmen", but there are only six for each city gate if you're in a city, twelve if you are in a borough, six for a town. Some of them are busy guarding the gates or sleeping up prior to a night patrol. London has an additional six per ward, roughly one per four hundred head of population, which gives us a sense of a Wild West sheriff rather than a police officer.
In Germany, a weird patchwork of intersecting states and legislations, it all depends on where you are. However, the daytime watch usually comprises of some mercenaries — probably drunk some of the time, but usually tough and with no local allegiances to muddy the waters —  plus local men, usually youths, from respectable households taking their monthly turn.
German watchmen carry halberds or other pole-arms. In a real melee, they'll draw swords, but a long pole-weapon is surprisingly effective in a narrow street, and they can use the hooked parts to haul people out of fights.  They also wear armour, usually breastplates, as a uniform — to go armoured, you must be on watch or militia business; people sometimes end up fighting the watch by accident when they forget their plate.
Whatever their nationality, since they'll be outnumbered by the brawlers, the first thing the watchmen will do is get help. This means — you guessed it — organising the bystanders. In Germany, all the locals are also in the militia, so if they haven't already tooled up, some at least will run for proper military weapons. In England and France, there are usually trained fighters within running distance, either a garrison or some lord's retinue — his servants also know how to fight — or members of the local militia, so the watch might send for them. (Or they might simply stand back and note names.)
Once you're subdued, it's off to jail pending some kind of trial. What happens next depends on what the witnesses say and how much collateral damage you caused. (Though if you're in 15th-century England and a retainer of a great lord, expect to be free by supper time.)
A fair fight with no fatalities and limited damage to property will earn you fines and — for strangers — probably banishment.
Killing or maiming somebody is dicier.
In France and Germany, if you're not a stranger and it looked like a duel (they don't call it that for another century or so) then there are fines and pilgrimages, and in Germany the local authorities will make you pay compensation — yes, really old-style weregild — to avert a feud, which would be bad for business and bystanders both. Otherwise expect to be executed or possibly just maimed. England is less forgiving of duelling since it's a form of private justice, and that challenges the authority of the king. So don't kill anybody unless you are a noble. If you do kill somebody, don't get caught, and hope to win a pardon in return for joining the king's army rampaging around France.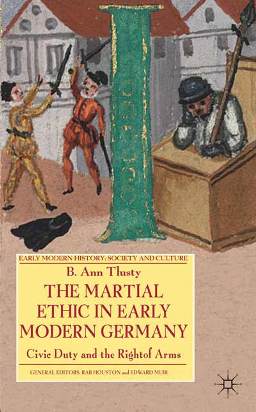 Suppose you don't get caught; who does the investigating?
Nobody. (Unless you are in England, when the coroner is supposed to investigate or at least report suspicious deaths. If you find a corpse, you have to call him out so he can note the wounds. All very Ye Olde CSI, but he's not a trained professional, and there's probably only one of him plus a servant or two.)
Nothing happens unless somebody accuses you of something.
Well, not quite. The legal system began as really just a non-violent substitute for self-help and feud. This can be a problem if no accusations are forthcoming — being a snitch is dangerous — so the authorities usually have workarounds. In parts of France, a judge can hold an inquest based on presumably confidential witness statements, or imprison you in the hope somebody would come forward. In England, the sheriff routinely calls on juries — really committees — to name notorious criminals and list crimes worth investigating.
So if there's formal investigating, it's done by a judge of some kind, or else by a jury. There's no call for a watchman to turn sleuth, and if he did, nobody would much trust him. Since he's underpaid they'd — rightly — suspect him of a financial agenda or accuse the authorities of some kind of power play.
They — the rough tough Medieval townsfolk — aren't sighing and yearning for a proper police force. That would mean giving up traditional rights to self help, and surrendering control to people they don't trust: namely governments, local or royal, intent on raising taxes and fines — they can always name individuals they don't trust, so this feels specific to them rather than a political stance; and law enforcement officers on the take, for example the French sergeants were such notorious muggers and extortionists that the king actually had to reduce their numbers within a few decades of founding them!
So, no, you won't get arrested by Nobby.
Nor will Vimes investigate your misdeeds. (Though in England, a coroner might.)
The local watch are glorified mall cops with perhaps a dose of neighbourhood watch.
However, don't underestimate the townies.  That funny little guy selling candles has a lumpy face because he's a five time winner of the local longsword tournament.
---
M Harold Page is a full-time author and part-time swordsman. Drop by his blog to find out what he's up to…