Future Treasures: Steal the Sky by Megan E. O'Keefe
Future Treasures: Steal the Sky by Megan E. O'Keefe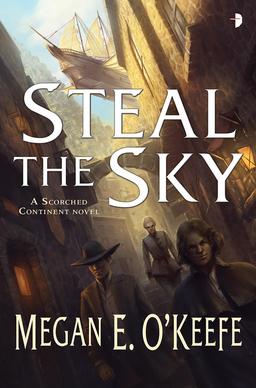 Megan E. O'Keefe has published stories in Shimmer and Writers of the Future Volume 30. Her first novel launches an ambitious fantasy series set in an oasis city, featuring a noble conman on the run from some very powerful people who stumbles onto a complicated conspiracy… and a chance to pull off a heist of epic proportions.
Detan Honding, a wanted conman of noble birth and ignoble tongue, has found himself in the oasis city of Aransa. He and his trusted companion Tibs may have pulled off one too many cons against the city's elite and need to make a quick escape. They set their sight's on their biggest heist yet — the gorgeous airship of the exiled commodore Thratia.

But in the middle of his scheme, a face changer known as a doppel starts murdering key members of Aransa's government. The sudden paranoia makes Detan's plans of stealing Thratia's ship that much harder. And with this sudden power vacuum, Thratia can solidify her power and wreck havoc against the Empire. But the doppel isn't working for Thratia and has her own intentions. Did Detan accidentally walk into a revolution and a crusade? He has to be careful — there's a reason most people think he's dead. And if his dangerous secret gets revealed, he has a lot more to worry about than a stolen airship.
Steal the Sky is the first volume of The Scorched Continent. It will be published by Angry Robot on January 5, 2016. It is 448 pages, priced at $7.99 in paperback and $6.99 for the digital edition.