Fantasy Scroll Magazine 9 Now Available
Fantasy Scroll Magazine 9 Now Available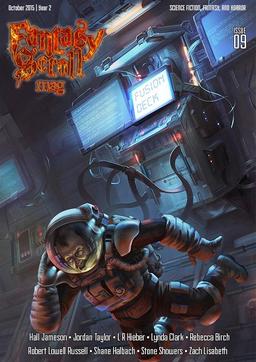 The ninth issue of the online-only Fantasy Scroll Magazine, cover dated October 2015, is now available.
The first order of business in Iulian Ionescu's editorial is an update on their upcoming Year One anthology, Dragons, Droids and Doom, which contains every story from their first year, including tales by Ken Liu, Piers Anthony, Rachel Pollack, Hank Quense, William Meikle, Cat Rambo, and Mike Resnick. It will be available in both print and as an ebook, and will be officially launched at PhilCon on November 22.
Iulian also provides his usual sneak peek of the contents of issue #9 in his editorial. Here's a snippet:
We begin with "Thomas Lynne," a fantasy short story by Jordan Taylor. The author transports us in a southern-US setting filled with fantasy elements that weave naturally with the character's story. Next is "When Angels Wear Butterfly Wings," a bone-chilling flash story by Stone Showers, followed by the equally bone-chilling "Sea Found" by L R Hieber. You can learn more about L R Hieber in the interview section.

"Fountain" is next, a science fiction story by Lynda Clark, describing a post-apocalyptic, dog eat dog world where everyone is struggling to survive. Next is "Beneath the Raven's Wing" by Rebecca Birch, a story that follows a young, female protagonist as she is faced with powers beyond her understanding. Shane Halbach's "Exit Strategy" follows, a story filled with humor, thievery, and dragons.
Next is a story that truly reminded me of Alice in Wonderland. "Where the Millennials Went" by Zach Lisabeth is a story set in an impossible world where strange characters do strange things. "Scents of Life" is a story about memory, love, and about the power of senses. The author, Robert Lowell Russell, takes us through the evolution of a disease in this heartfelt story. We end with "The Parting Gift," a story of loss, pain, and struggle by Hall Jameson.

At the end of the fiction section, we are concluding chapter one of the graphic novel series Shamrock by Josh Brown. The ending leaves us wanting more. I am very curious to see what other adventures are still to come in Shamrock's path.
Here's the complete table of contents.
Fiction
"Thomas Lynne" by JORDAN TAYLOR
"When Angels Wear Butterfly Wings" by STONE SHOWERS
"Sea Found" by L R HIEBER
"Fountain" by LYNDA CLARK
"Beneath the Raven's Wing" by REBECCA BIRCH
"Exit Strategy" by SHANE HALBACH
"Where the Millennials Went" by ZACH LISABETH
"Scents of Life" by ROBERT LOWELL RUSSELL
"The Parting Gift" by HALL JAMESON
Graphic Story: "Shamrock – Part 4 – Hero's Scream written by JOSH BROWN, art by ALBERTO HERNANDEZ
Non-Fiction
Interview with Author Michael R. Underwood
Interview with Author L R Hieber
Artist Spotlight: Jessica Tung Chi
Science Corner: Black Holes and Academic Walls
Book Review: Half a War by Joe Abercrombie
Book Review: Updraft by Fran Wilde
Movie Review: Pay The Ghost by Uli Edel
See the complete contents of the issue here.
Fantasy Scroll Magazine is edited by Iulian Ionescu, Frederick Doot, and Alexandra Zamorski, and published bi-monthly in Mobi, epub, and PDF format; issues are also for sale through Amazon, B&N, Smashwords, Kobo, Weightless Books, and Google. Individual issues are $2.99, a 4-issue subscription is only $9.99. Learn more at their website. The cover this issue is "The Critical Moment" by Jessica Tung Chi.
We last covered the magazine with issue 8.
Our mid-October Fantasy Magazine Rack is here. See all of our recent fantasy magazine coverage here.