Vintage Treasures: The Damiano Trilogy, by R.A. MacAvoy
Vintage Treasures: The Damiano Trilogy, by R.A. MacAvoy
R. A. MacAvoy published her first novel, Tea with the Black Dragon, in May 1983. It was nominated for the Hugo, Nebula, and World Fantasy Awards, and received the 1984 Locus Award for Best First Novel. Not too surprisingly, she won the John W. Campbell Award for Best New Writer in 1984.
Her next novel, Damiano, the tale of a wizard's son befriended by the Archangel Raphael, appeared in 1984, and became the first novel of an ambitious fantasy trilogy. The next two were published as paperback originals by Bantam Books the same year, all with gorgeous wraparound covers by Jim Burns (click the images above for bigger versions.)
Here's the back covers for all three.
All three novels were reprinted in a single omnibus collection, titled A Trio for Lute, by the Science Fiction Book Club in April 1985, with a cover by Walter Velez of Thieves' World fame. Bantam Spectra produced a paperback omnibus in July 1988 (below), with a wraparound cover by the great Gary Ruddell.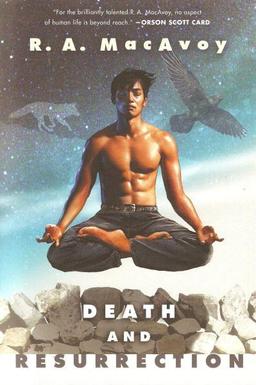 MacAvoy produced a sequel to Tea with the Black Dragon, Twisting the Rope, in 1986. Her other novels include The Book of Kells (1985), The Grey Horse (1987), The Third Eagle (1989), and the Lens of the World trilogy:
Lens of the World (1990)
King of the Dead (1991)
Winter of the Wolf (1993)
After the publication of the Lens of the World trilogy, MacAvoy was diagnosed with dystonia, a neurological disorder, and wrote virtually nothing for over a decade. She has reportedly returned to writing, and her first new full-length novel in nearly 20 years, Death and Resurrection, appeared in 2011 from Prime Books.
The Damiano trilogy was out of print in the US for nearly 25 years, until all three volumes were made available again last year by Open Road Media, in both trade paperback and digital editions.
See all of our recent Vintage Treasures here.