Blowing the Doors Off the Barn: Expanding the Iron Fist Mythos
Blowing the Doors Off the Barn: Expanding the Iron Fist Mythos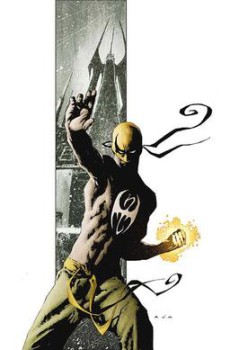 Marvel's Iron Fist has not traditionally been one of those characters that attracted me. I first encountered him in a second-hand Power-Man and Iron Fist I got in my first year of collecting comics in 1981.
I didn't get the odd-couple humor, nor the 1970s movie aesthetic that drove the creation of these heroes. Maybe I just wasn't ready to dig a character who wore slippers. In my defense, I didn't cotton to Karnak of the Inhumans either. So maybe it's was the karate chops.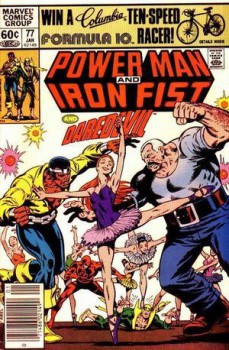 As a teen, I was briefly and underwhelmingly exposed to the black and white magazine-sized martial arts books Marvel published in the 1970s. The only positive sound I ever made when Iron Fist showed up on my radar was when he was drawn by John Byrne and when he briefly crossed paths with the X-Men.
That all changed for me in a 2006-2009 run of The Immortal Iron Fist written by Ed Brubaker, Matt Fraction, and Duane Swierczynski, and pencilled by Travis Foreman and David Aja. Why?
Before 2006, a few things were clear about Danny Rand, the Iron Fist. He was trained in the mystical city of K'un L'un after the deaths of his parents. He is one of a long line of successive possessors of the Chi force that he got from the Dragon of K'un L'un. His arch-enemy is the Steel Serpent, a bit of a bad apple from K'un L'un. It's a tight superhero set-up, and to my taste, a bit tepid.
But in "The Last Iron Fist Story" (issues #1-6 of the Immortal Iron Fist), Brubaker and Fraction reveal that Danny is not the only living Iron Fist. His predecessor is still alive and kicking (sorry…); he's been hiding in an opium haze for decades.
When the enemies of K'un L'un find him, he has to leave opium, in anticipation of something called the Tournament of the Seven Capital Cities.
[Click on any of the images for bigger versions.]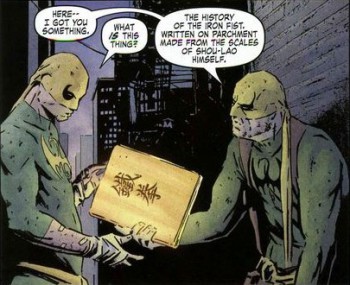 There's a lot of action and suspense and mystery and Hydra, but this older Iron Fist cracks open a world that Danny didn't know about and is far, far more interesting than anything that has come before in the Iron Fist stories. And in flashback, we don't just see this fallen Iron Fist, but 1-2 page vignettes of Iron Fists through the ages; their role and nature is hugely expanded.
But this is just the appetizer.
In "The Seven Capital Cities of Heaven" (issues #8-14 of The Immortal Iron Fist), Danny is summoned back to K'un L'un to fight the champions of the other six celestial cities.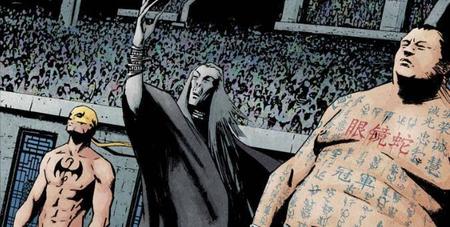 WTF?
Yeah, you heard me. There isn't just K'un L'un. There are six other mystical cities phasing in and out of contact with the world, each with their own magical martial arts champion. Not only that, but there is a mysterious eighth city hidden somewhere. The originality of the other champions, the action of the tournament and the political and military machinations propel this story forward, multiplying the size of the Iron Fist mythos by seven.
You'd think that after this big an expansion that there could be no more secrets or surprises for readers of Danny Rand, but "The Mortal Iron Fist" (#16-20 of The Immortal Iron Fist) Danny discovers on his 33rd birthday that no Iron Fist has ever lived beyond their 33rd birthday (with the exception of Danny's immediate predecessor who hid by drugging himself stupid). The killer of all those Iron Fists is associated with the mysterious eighth celestial city and the end of this arc leaves Danny with a map of how to get there.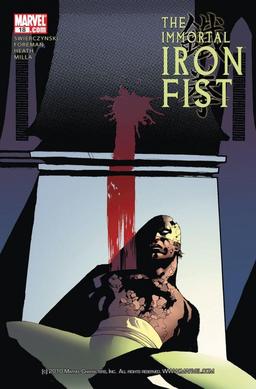 The last growth in this pretty incredible run was "Escape from the Eighth City" (#22-23, #25-26 of The Immortal Iron Fist). All seven immortal weapons (Iron Fist and the other six) travel to the eighth celestial city, to discover that it is in fact a prison in which centuries of corrupt rulers of the celestial cities have dumped political dissidents. The adventure is the survival and prison break story that fills out the depth and history of the Iron Fist world, all the way back to the first Iron Fist.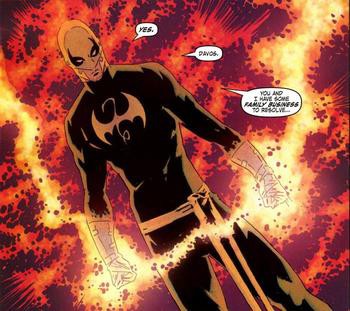 The dramatic expansion of a mythos is a long tradition in comics. Superman encountering the lost city of Kandor is one example.
Green Lantern first being summoned to Oa to meet the Guardians and the other 3,599 Green Lanterns was a similar moment, as was the introduction of Sinestro, and later the Sinestro Corps.
The best other example of expanding a mythos to my mind is Geoff Johns' Blackest Night (2009-2010), when we find that the entire Green Lantern Corps and the Sinestro Corps are only two of seven colors of power rings and that the seven together are the subject of a prophecy of cosmic proportions that plays out in Blackest Night and Brightest Day.
I think that there's something very powerful in storytelling when the hero (and reader) step onto a rise and find a wider world that recontextualizes everything that came before. If you want that feeling, I recommend checking out The Immortal Iron Fist run. It comes in four trade paperbacks, but if digital is your thing, I'm sure Comixology has it.
---
Derek Künsken writes science fiction, fantasy and struggles with horror in Gatineau, Québec. He tweets from @derekkunsken. Now that he thinks about it, Derek read The Immortal Iron Fist run not long before writing his hard sf martial arts novelette "Way of the Needle"  which won the Asimov Award and can be listened to for free courtesy of the nice folks at Escapepod.org.