The Flaw in Everything: Warren Ellis' Karnak the Shatterer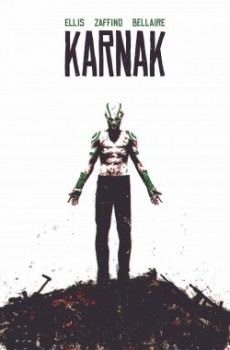 It's the best part of the reading experience to run across a story with a new voice. Warren Ellis, of The Authority and Transmetropolitan fame, has assumed various voices, but I love his newest one: the narrative perspective of Marvel's Karnak the Shatterer, a character associated with the Inhumans.
The Inhumans, created by Stan Lee and Jack Kirby, have been around since The Fantastic Four was in double-digits. Some of you may recall that Karnak is the one with the big head and the super-effective karate chops because his special talent is finding the structural flaws in things.
(Although, to be accurate, Karnak isn't technically an Inhuman because was never exposed to the Terrigen mists — bring that up at a dinner party for a No-Prize!)
Over the years, Karnak's powers and perceptions have expanded to include seeing the flaws in arguments, concepts, and people. His greatest achievement is finding the flaw in death, thereby returning from the dead.
It may sound a bit blithe to say it that way, but Karnak's philosophical viewpoint has been strengthened over the years and bears some thematic resemblances to people like Iron Fist's warriors of K'un-Lun or the Ancient One (of Dr. Strange fame).
The Inhumans of course, have been increasing in their importance in the Marvel Universe. I've seen internet theories that Marvel is downplaying the X-Men while up-playing the Inhumans, because Marvel doesn't hold the X-Men movie rights.