Review of Pathfinder Tales: Plague of Shadows by Howard Andrew Jones
Review of Pathfinder Tales: Plague of Shadows by Howard Andrew Jones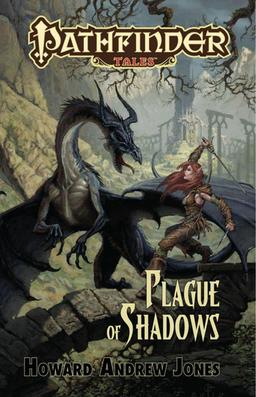 I just read my second Howard Andrew Jones novel: Plague of Shadows (2011), which was the first of his two Pathfinder novels (I read them out of order). In my review of Stalking the Beast (2013) for Black Gate, I raved that it delivered everything I crave from such a tale. It did so with skill and panache, introducing me to characters who have stayed with me. So I was pleased to go back and read the true introduction to Elyana, the Forlorn elven ranger raised by humans, and Drelm, the half-orc who values honor and loyalty more than most humans (let alone most orcs) do.
Knowing that it was a first outing, I went in expecting it to be not quite as good — not as polished or assured, maybe — as its follow-up (indeed, I gave Stalking the Beast a perfect 5-star rating, arguing that sword-and-sorcery RPG tie-in novels just don't get any better than that).
But then I finished the book: And I felt that peculiar sense that only certain works of art engender, as the last sentence echoes away or the curtain falls or the credits roll. It has impressed itself upon you, and you feel enriched but tinged with a bittersweet sadness — the characters have left, and you miss them. The characters have, in some sense, become more real; they have joined your own personal pantheon. With this second visit, Elyana and Drelm grew from being fun, engaging characters in a standalone book into characters about whom I want to read many books!
Here Elyana, in particular, proves to be an even richer, more complex and fascinating character — how Jones knows the mind of a nearly two-hundred-year-old elven lady so well, and can make her so empathetic, is beyond me. Her sadness is counterbalanced by her loyalty and courage. The sense of betrayal by humans with their frailties and weaknesses and, well, betrayals never defeats her spirit and determination, and she is an inspiring hero.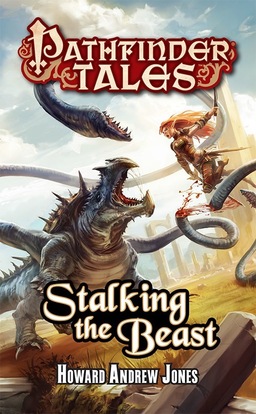 Then there is Arcil. Set up as the villain (and, lo, he is one — is he ever), the shadow wizard proves more multi-faceted and less predictable than your typical baddie. Indeed, this is a strength of many of the Pathfinder Tales I have read thus far: the villains are emotionally complex and fascinating — when handled well, one can sympathize even while rooting against them. And the villains are not always villains, just as the good guys are not always good guys — more like real life that way, certainly a more sophisticated level of storytelling. The relationships Elyana has with each of her former adventuring companions are nuanced and complicated; they feel like relationships truly forged in the fire.
Incidentally, one notable storytelling device in this outing is the occasional "Interlude": a flashback to an event decades earlier when Elyana adventured with her much younger companions Arcil, Vallyn the bard, Stelan (a fighter or paladin/knight, now a Baron), and Edak the warrior. These interludes shed light on or contrast with the relationships of the characters now. Normally I am no fan of such flashbacks — I detest being yanked out of the unfolding story in order to go back and hear about something that happened a long time ago. In this case, though, they work very well. As far as scenes of pure action and adventure, they are some of the best in the book, and one can well imagine playing them out in a Pathfinder campaign. I grew to look forward to them as the narrative progressed. They also really do serve a relevant narrative function, helping one understand better Elyana's perceptions and attitudes toward these people from her past, rather than just being window dressing.
And it is a rousing good quest story. Plenty of action, suspense, strange shadow realms and even stranger monsters. Like its companion book, once I had gotten a couple chapters in I could hardly put it down.
I was pleased to learn, reading Bob Byrne's introduction to the guest piece by Dave Gross that he recently posted here, that Jones has a new Pathfinder book due out in October. I dearly hope that it continues the adventures of Elyana and Drelm, because I am hooked.
I have now also read the two Tim Pratt books in the Pathfinder Tales series, and they were pretty good too. I'll try to provide a review of those in coming weeks. I have resolved now to branch out and read some other authors in the series, to see if the quality is as consistently high beyond these two particular authors.
Pathfinder Tales: Plague of Shadows: 4.5 out of 5 stars