New Treasures: Pathfinder Tales: Beyond the Pool of Stars by Howard Andrew Jones
New Treasures: Pathfinder Tales: Beyond the Pool of Stars by Howard Andrew Jones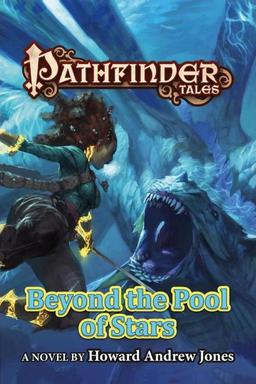 Here at the Chicago rooftop headquarters of Black Gate, one of the most anticipated books of the fall is Howard Andrew Jones' third Pathfinder Tales novel, Beyond the Pool of Stars. It was finally released this week.
Beyond the Pool of Stars is a fantastical adventure of deep-water danger and unlikely alliances set in the award-winning world of the Pathfinder Roleplaying Game. It follows Plague of Shadows and Stalking the Beast, but is a completely standalone adventure.
Mirian Raas comes from a long line of salvagers, adventurers who use magic to dive for sunken ships off the coast of tropical Sargava. When her father dies, Mirian has to take over his last job: a dangerous expedition into deep jungle pools, helping a tribe of lizardfolk reclaim the lost treasures of their people. Yet this isn't any ordinary job, as the same colonial government that looks down on Mirian for her half-native heritage has an interest in the treasure, and the survival of the entire nation may depend on the outcome…
It also contains a free 12-page excerpt from Pathfinder Tales: Bloodhound by F. Wesley Schneider, on sale in December.
Pathfinder Tales: Beyond the Pool of Stars was published by Tor Books on October 6, 2015. It is 347 pages, priced at $14.99 in trade paperback and $9.99 for the digital edition. The cover is by Tyler Jacobson (see the complete wraparound art here). Read more at Howard's website.