My Bookish Ways Interviews Howard Andrew Jones
My Bookish Ways Interviews Howard Andrew Jones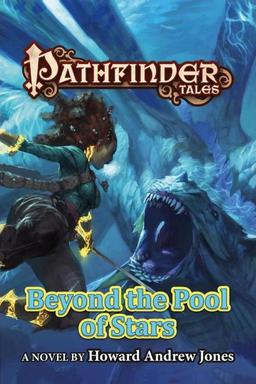 Kristin Centorcelli, Editor in Chief at book blog My Bookish Ways, interviewed our Managing Editor this week about the release of his new Pathfinder Tales novel, Beyond the Pool of Stars. Here's a snippet in which Howard talks about the Pathfinder setting.
Golarion is a rich and vibrant world, and part of why I was a fan of Paizo products long before I started working for them. It generally has a high medieval technological level, with magic intercalated into many aspects of various of the world's cultures.

One of the reasons I set this book (and its sequel – more on that in a moment) down in tropical Sargava is that I wanted to take my readers to somewhere new. There are a lot of fantasy stories with elves and dwarves set in and around feudal societies with stone castles and mighty forests.

Mirian's world is one of beaches and ships and the lap of waves, and the cool darkness of mysterious ocean depths. She doesn't wear armor or carry a long sword, although she might carry a cutlass. She doesn't contend with goblins or the fey, but with monsters of the deep and lizard folk, and even the prejudice of the colonial culture ruling her homeland. She's of mixed race, but owing to her coloration the colonials see her as native.
Read the complete interview here, and see our previous coverage of Beyond the Pool of Stars here.
Pathfinder Tales: Beyond the Pool of Stars was published by Tor Books on October 6, 2015. It is 347 pages, priced at $14.99 in trade paperback and $9.99 for the digital edition. The cover is by Tyler Jacobson (see the complete wraparound art here). Read more at Howard's website.