Future Treasures: Knight's Shadow by Sebastien de Castell
Future Treasures: Knight's Shadow by Sebastien de Castell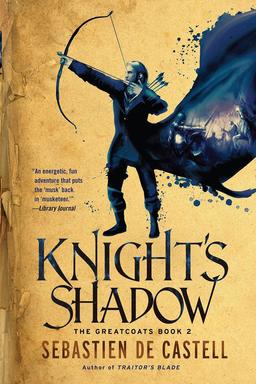 The highly-anticipated second book in Sebastien de Castell's The Greatcoats series is due next month, and I'm really looking forward to it. Sarah Avery's rave review of the first volume, Traitor's Blade, should help you understand why.
Not only did I love this book, I trusted it. Somehow, de Castell managed in his debut novel to win my trust so completely and quickly that he could tell nearly half of his story in flashback, often for a chapter at a stretch, and never once did he throw me out of the waking dream of fiction to wonder whether he could pull it off…

As the story opens, our three Greatcoat heroes need to get out of town fast, so they take a job guarding a mysterious lady's caravan, hoping her freedom to travel will protect them. And it does, sort of, until she leads them to Rijou, the most lawless, most ruthless, most corrupt city in all of Tristia.

It's not difficult to imagine Traitor's Blade as a western about circuit-riding judges in the boomtown days of Deadwood. There is something of the noir detective tale, too, about the bloody case Falcio vows to solve in Rijou. The flashbacks to the fall of King Paelis are intimately tragic, genuinely moving, and crucial to solving the puzzle that forms the novel's overarching plot.
Knight's Shadow will be published on June 2 by Quercus and Jo Fletcher Books. It is 580 pages, priced at $26.99 in hardcover, and $12.99 for the digital edition.