March 2015 Nightmare Magazine Now on Sale
March 2015 Nightmare Magazine Now on Sale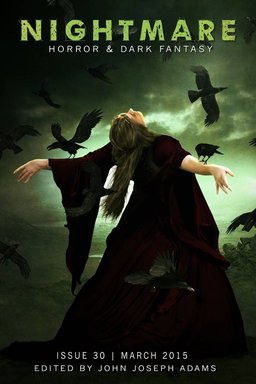 The March 2015 issue of Nightmare Magazine is now available. Nightmare is an online magazine of horror and dark fantasy, with a broad focus — editor John Joseph Adams promises you'll find all kinds of horror within, from zombie stories and haunted house tales to visceral psychological horror. Fiction this month is:
Original Stories
"Please, Momma" by Chesya Burke
"An Army of Angels" by Caspian Gray
Reprints
"Featherweight" by Robert Shearman
"The Burned House" by Lynda E. Rucker
In his editorial, John Joseph Adams reports on the astonishing success of his latest crowdfunding initiative, the follow-up to the groundbreaking Women Destroy Science Fiction! anniversary issue of Lightspeed:
Lightspeed's Queers Destroy Science Fiction! Kickstarter campaign has now concluded and we're happy to report that it was extremely successful; we asked for $5,000 and got $54,523 in return, which was 1090% of our funding goal. As a result of all that success, we unlocked several stretch goals, including additional special issues Queers Destroy Horror!, which will be published in October as a special issue of Nightmare, and Queers Destroy Fantasy!, which will publish in December as a special issue of Fantasy Magazine.
That's an amazing accomplishment, even compared to the tremendously successful Women Destroy Science Fiction! campaign. Queers Destroy Science Fiction! will be guest edited by Seanan McGuire.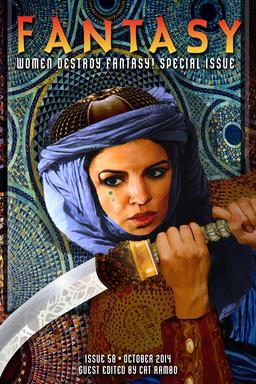 I was especially pleased to hear about the special issue of Fantasy Magazine; Fantasy no longer exists as a standalone publication, as it was absorbed into Lightspeed in January 2012. The last issue I know about was #58, the Women Destroy Fantasy! special issue, published in October 2014 (see the cover left), and still available in print for $12.99, or just $2.99 for the digital edition.
Read all the exciting news in John's editorial here, and see the complete contents of the issue here.
In the non-fiction section of the latest issue of Nightmare, S. G. Browne discusses the new flavor of zombies in the horror column "The H Word," and there's an interview with the amazing Helen Marshall, author of Gifts for the One Who Comes After, conducted by Kelly Link.
There's also the usual author spotlights, and a showcase on this month's cover artist, Marina J. Lostetter.
Nightmare is edited by John Joseph Adams. The mighty Patty Templeton interviewed him for us here. He has been nominated for the Hugo Award 8 times. He recently became the editor of the new Year's Best series, The Best American Science Fiction & Fantasy. The first volume will be published by Houghton Mifflin Harcourt this October.
This is the 30th issue of Nightmare. Subscriptions are available for just $1.99 per issue, single issues are available in multiple digital formats for $2.99. Purchase copies and sample free content at the website.
We last covered Nightmare with the February 2015 issue.
See all of our recent magazine coverage here.