February 2015 Nightmare Magazine Now on Sale
February 2015 Nightmare Magazine Now on Sale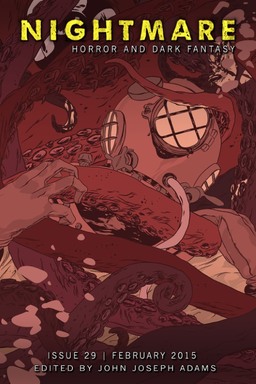 The February 2015 issue of Nightmare Magazine is now available. (Truthfully, issue 30 will be on sale any day now too, but I'll get to that later.)
Nightmare is the sister publication of the highly-regarded science fiction and fantasy magazine Lightspeed. It's an online magazine of horror and dark fantasy, with a broad focus — editor John Joseph Adams promises you'll find all kinds of horror within, from zombie stories and haunted house tales to visceral psychological horror.
This issue has two pieces of original fiction:
"The Garden" by Karen Munro
"Descent" by and Carmen Maria Machado
As well as two reprints:
"Fishfly Season" by Halli Villegas
"Cult by Brian Evenson
There's also the latest installment of their column on horror, "The H Word," plus author spotlights, a showcase on the cover artist, and an interview with award-winning author Chuck Palahniuk.
This month's editorial from John Joseph Adams includes updates on the spectacularly successful Queers Destroy Science Fiction! Kickstarter campaign, which reached over 1,000% of its goal, as well as news on Adams new anthology Wastelands 2, the sequel to his bestselling Wastelands. Read the complete editorial online here.
See the complete contents of the issue here.
Nightmare is edited by John Joseph Adams, editor of Dead Man's Hand, The Mad Scientist's Guide to World Domination, Epic, Wastelands, the upcoming The Best American Science Fiction & Fantasy, and many other fine anthologies. The mighty Patty Templeton interviewed him for us here. He has been nominated for the Hugo Award 8 times.
This is the 29th issue of Nightmare. Subscriptions are available for just $1.99 per issue, single issues are available in multiple digital formats for $2.99. Purchase copies and sample free content at the website.
We last covered Nightmare with the January 2015 issue.
See all of our recent magazine coverage here.