Galaxy Science Fiction, April 1952: A Retro-Review
Galaxy Science Fiction, April 1952: A Retro-Review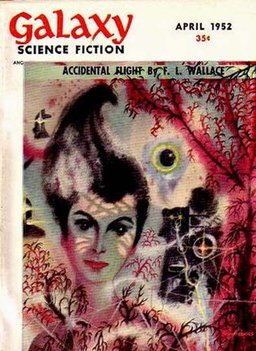 Ah, Galaxy. My old friend. I wonder if this is how readers felt by the time the April, 1952 issue rolled out. Officially labeled as Volume 4, Number 1, this issue marked the completion of 18 months for the magazine. You can tell a lot about a magazine by that point in time, especially if it's hitting newsstands every month. And I think readers could tell that this was something amazing.
"Accidental Flight" by F. L. Wallace — Medical advancements can save people with profound injuries, but in some cases, the patients can't recover into "normal" status. They might be amputees, lack vital organs, or have any variety of conditions that makes them unsuitable to join the rest of society. These people live on an asteroid, cared for and guarded by medical staff. And though they don't wish to rejoin society, they do wish to leave their asteroid in order to explore the stars.
It's interesting to see a cast of characters with disabilities. The story moves well, and I think (or perhaps hope) that this fiction touches on the theme that all people have value, despite what limitations a society may perceive. Wallace later expanded this tale into a novel titled Address: Centauri, published by Gnome Press in 1955, and as Galaxy Novel #32 in 1958 (see below).
"Katahut Said No" by J. T. M'Intosh — A computer system on Earth helps the Economic Center determine unviable towns on Venus. After all, there are only a limited amount of resources available, and the latest analysis shows one of the towns must die. The people would be dispersed elsewhere, and efficiency would increase. Unfortunately, the computer picks Katahut, the first settlement on the planet. And the citizens of the town do not wish to comply.
I liked the politics around this story — how one man tries to rally the town to fight the decision and what that may mean for all of the settlements. But the zinger was the final sentence.
"The Moon is Green" by Fritz Leiber — Effie and her husband live in a protected society, sealed away from the radioactive world outside. She looks upon the night sky and its green moon, wishing for escape. When her husband leaves, she opens the window for a visitor, a man who tells her that what lies beyond isn't the result expected of so many bombs, that it is actually a fairyland. And this compels her all the more to leave her home for the wild beyond.
This one had a nice touch of eeriness. I felt drawn to Effie and her desire for freedom.
"Martians Never Die" by Lucius Daniel — After inventing an interdimensional transporter, Dr. Curtis took a long trip to Mars. During his absence and unknown return, his wife and broker began seeing each other. When Dr. Curtis returns, his wife acts as though the affair never happened, while the broker plots murder. Unfortunately for the broker, Dr. Curtis also has a new companion — the Martian equivalent of a dog named Schaughtowl. And Schaughtowl doesn't care for ill intentions toward its master.
The story is amusing, but it becomes a bit silly toward the end.
"She Who Laughs" by Peter Phillips — A spirit waits in an Irish mansion, watching with amusement as the latest renter negotiates a price with the owner. The tales of hauntings don't dissuade the man, exactly as the spirit expected. After all, it's not really haunted.
I really liked this story. I felt a lot of confusion early on, but as the story unfolded, everything became clear. The author was quite clever.
"Ticket to Anywhere" by Damon Knight — Richard Falk escapes from Earth by stowing away on a rocket for Mars. Society has become oppressive and he wants to find something new. On Mars, he meets a young man who guards the Doorway — an ancient alien technology that transports a person to a random location in the galaxy. No one knows how it works or how to return, and the risk of never returning dissuades people from using it.
Richard has no such fears, however, and he volunteers to try it. It in turn leads to other Doorways, and he finds himself skipping from one world to the next, finding new patterns in each starry sky. He hopes to understand how the Doorways work, but more than anything, he hopes to find a home.
This was my favorite story in the issue. I wasn't keen on the description around how society was oppressive, so I just let go of those details in order to focus on the main plot.
My next review will cover the June, 1952 issue. My review of May, 1952 was actually the first time I covered Galaxy review (it was the oldest issue I owned at the time).
---
Matthew Wuertz's last retro review for us was the March 1952 issue of Galaxy Science Fiction.