Future Treasures: Covenant's End by Ari Marmell
Future Treasures: Covenant's End by Ari Marmell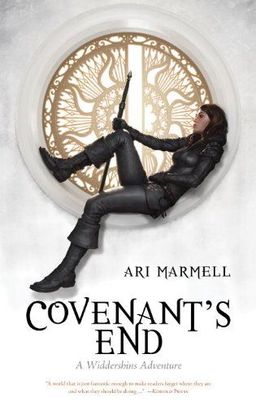 Ari Marmell has been making a name for himself as a gaming writer and as a novelist for the past decade. He's co-authored several excellent D&D releases, including Complete Mage (2006), Heroes of Horror (2005), Cityscape (2006), the Neverwinter Campaign Setting (2011), and the 4th Edition Tomb of Horrors (2010). Anyone who can adapt Gygax's diabolical player-killer Tomb of Horrors and make it playable has serious cred in my book.
But it's his recent fantasy novels that have really begun to get a lot of attention, including The Goblin Corps (2011), Hot Lead, Cold Iron (2014), and The Conqueror's Shadow (2010), which John Ottinger III reviewed for us here. Perhaps his most successful series has been his YA novels featuring the thief Widdershins, starting with Thief's Covenant (Feb 2012), False Covenant (June 2012), and Lost Covenant (Dec 2013).
Next year, Ari brings us a fourth Widdershins novel, with the rather ominous title Covenant's End. Is this the final book in a much-loved series? You'll have to wait until February to find out.
The thief Widdershins and her own "personal god," Olgun, return to their home city of Davillon after almost a year away. While Shins expects only to face the difficulty of making up with her friends, what she actually finds is far, far worse. Her nemesis, Lisette, has returned, and she is not alone. Lisette has made a dark pact with supernatural powers that have granted her abilities far greater than anything Widdershins and Olgun can match.

Together, Widdershins and Olgun will face enemies on both sides of the law, for Lisette's schemes have given her power in both Davillon's government and its underworld. For even a slim chance, Shins must call on both old friends — some of whom haven't yet forgiven her — and new allies.

Even with their help, Widdershins may be required to make the hardest sacrifice of her life, if she is to rid Davillon — and herself — of Lisette once and for all.
Covenant's End will by published by Pyr on February 3, 2015. It is 273 pages, priced at $17.99 in hardcover and $11.99 for the digital version. The cover art is by Jason Chan.