A Modern Classic of Heroic Fantasy: The Sword of Demelza by J. E. Rogers
A Modern Classic of Heroic Fantasy: The Sword of Demelza by J. E. Rogers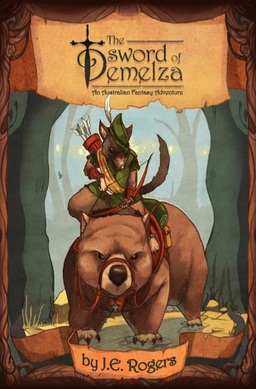 In the shadow of Fortress Demelza, the lives of three friends collide, forging an unlikely friendship. Devon, a young red fox, along with Erik and Emma, two young marsupials, learn that an evil king has gained control of a powerful sword. Under the king's command, a demon thylacine and dragon lizards are burning villages and threatening the peaceful creatures of the countryside. In an act of desperation, the three friends realize they must put everything aside and join a rebel army whose main purpose is to end the reign of the king!
— from the back cover of The Sword of Demelza
And so it begins, this magical story — which was a ForeWard Clarion Reviews Book of the Year Finalist for 2013, and also received Honorable Mention in the 2013 Writer's Digest eBook Awards.
It has been many a year since I read a fantasy written for middle graders, but this one was first brought to my attention during a comment "thread" in a Facebook group for indie authors. A few days later, it was highly recommended to me by an adult friend who found herself caught up in the characters, action, and adventure when reading some chapters to her young son, who was bedridden with the flu at the time. So I bought a copy for myself, stretched out on the couch the day it arrived, and got lost inside the story, just as my friend had. Like any good novel, whether it's written for children, teens, or adults of any age, The Sword of Demelza picks you up, pulls you in, and takes you on a grand adventure.
J. E. Rogers's first novel is driven by its characters, with the perfect balance of plot to keep the reader entranced by and invested in the overall story. Unlike so many novels, where formula and tired old clichés drive the story, The Sword of Demelza is something new and fun — partly because the setting, a fully-realized, alternate version of Australia, is so masterfully handled by Rogers. But it isn't just the setting that draws you into this novel, like so many deeply woven fantasy stories, although the author has certainly done her homework — this wonderful novel is filled with great detail and research.
What makes The Sword of Demelza work so well are the characters that are so lovingly written, and from which children, teens, and adults of every age can learn something from, as well as learn something about. You see, these are not humans we are reading about, but the unique animals that populate the Outback, animals that are graced with human characteristics, emotions, motives, and traits that make each one come alive in the mind's eye. While reading this, I was reminded of such novels I enjoyed, like Watership Down, the Redwall novels, The Wind in the Willows, and the works of Roald Dahl, as well as those classic, old-school-animated Walt Disney films, like The Jungle Book, The Adventures of Ichabod and Mister Toad, Robin Hood, and my own personal favorite, The Rescuers.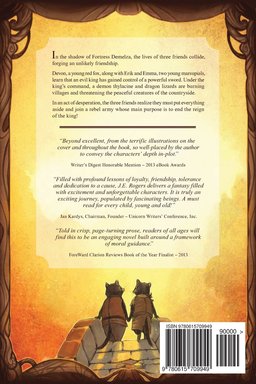 The Sword of Demelza is firmly rooted in the realm of Heroic Fantasy, for the characters strive against forces greater than themselves; they are not anti-heroes, but are unselfish, caring, ordinary "people" who rise to the occasion, who are brave in the face of fear and danger, and are willing to make the sacrifices to save friends, family, and their homeland. Heroic characters such as the siblings, Erik and Emma, the two young marsupials (called kowaris) who set out to pick berries one fine day, and Devon, the red fox that takes to the road of vengeance against the evil Australian water dragons, will capture your imagination. There is also a gang-gang cockatoo named Hector, who saves Erik and Emma from a large Brown Snake while they are out picking berries. And then there are the puggles (baby echidnas), Ackley and Amber, whose mother was bitten by that very same Brown Snake. They join with, and are looked after by, Erik and Emma when Aldon, Keeper of the Forest, sends them out into the forest on a quest to find the items he needs to make a potion to save her.
This novel is sublime and Rogers captures and harnesses the perfect balance of description, dialogue, and action. She knows how to keep a plot moving from the first page to the very last in this epic Australian adventure that will surely be considered a classic. It has already scored numerous awards and chalked up many great reviews. Much has already been written about the plot and characters of The Sword of Demelza. There are detailed descriptions of what this book is about and who the characters are in the many reviews it has garnered. But allow me to quote from Roger's Author's Note, and you'll get a sense of what she hopes to accomplish — and which I feel she has, and successfully, too — with this fantastical yarn of hers:
The Sword of Demelza introduces middle graders to a number of animals. Some of these animals are unheard of by children here in the USA (including this child). Most of the animals in the book are indigenous to Australia. The more important fact is that many of them are endangered. Many species of animal and plant life as well, are gone from the planet forever. They have become extinct for many reasons, some natural. Sadly, man has played his role via encroachment, greed, and negligence. If a young person reads my book and is inspired to learn more about the animals who roam the pages, then I have accomplished a worthwhile goal. Maybe, just maybe, they will be the generation dedicated to making a change. If they enjoy it while they are learning, well, what more can I ask?
That being said, all I can add is that you really have to read this heroic fantasy adventure in order to truly comprehend the depth of setting, story, and character that the author so well brings to life. Words best brought to my mind in regards to this story are: engaging, surprising, epic, adventuresome, and enthralling. If your children enjoy fantasy of any kind, I think they will enjoy this book, and so will you.
The Sword of Demelza was published by Acadia Publishing Group. It is 328 pages, priced at $12.95 in trade paperback and $3.99 for the digital edition. It is illustrated by Guy Atherfold and William Hulbert. Cover and Back Plate by Guy Atherfold.