Vintage Treasures: The Gods Hate Kansas by Joseph Millard
Vintage Treasures: The Gods Hate Kansas by Joseph Millard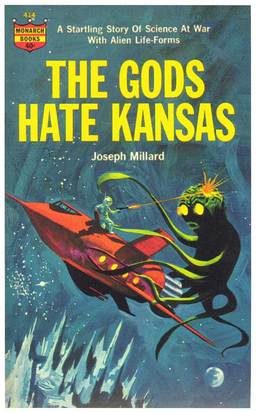 With my Vintage Treasures posts, I like to showcase the best overlooked fantasy of the past half century or so. American fantasy is an enormously rich genre, but it also has a notoriously short memory, and there are countless buried treasures to rescue from undeserved obscurity.
Of course, sometimes I like to forget all that and just showcase the weird.
Joseph Millard was an American pulp science fiction writer who published nearly a dozen short stories between 1941 and 1943, and then apparently gave up writing for good. Most of his stories appeared in magazines like Thrilling Wonder Stories, Amazing Stories, Fantastic Adventures, and other pulps. He died in 1989.
In November 1941, he published his only novel, The Gods Hate Kansas, in Startling Stories magazine. It was reprinted a decade later in the November 1952 issue of Fantastic Story Magazine, and then appeared in paperback in February 1964 from Monarch Books, with a brilliantly gonzo cover by Jack Thurston, featuring a raygun-wielding hero riding bareback on a little red number and giving the business to an earnest-looking bug-eye monster. I love this cover with a fierce passion, and I thank Joseph Millard for making it all possible. (Click the image at left for a mondo-sized version.)
The cover isn't the only brilliant thing about this novel. There's also the title. Why do the gods hate Kansas? What the hell did Kansas do, anyway? It's one of those questions that brings you back to the paperback rack next to the checkout lane for a second look. Just 40 cents and the answer could be yours.
The Gods Hate Kansas is a novel of alien invasion, with a plot mostly stolen from The War of the Worlds and The Puppet Masters. Strange meteorites land in Kansas, and the first people to investigate are…. changed. Soon the world is nearly overrun by an alien invasion and it's down to our hero, an astrophysicist named Curt Temple, to set things right.
Here's the original pulp versions, from 1941 and 1952 (click for bigger images):
The Startling Stories cover is by Rudolph Belarski and the Fantastic Story by Earle K. Bergey.
Here's the delightful blurb from the back of the 1964 paperback:
The Gods Hate Kansas was made into the 1967 British science fiction movie, They Came from Beyond Space, directed by Freddie Francis and written by Milton Subotsky, which may be just as obscure as the book. I've never heard of it, but I love the posters, with their stylish goggle headwear.
The Gods Hate Kansas was never reprinted, which perhaps was for the best. It remains a strange relic of American fantasy, which paperback treasure hunters stumble upon from time to time in used book stores.
The Gods Hate Kansas was published in February 1964 by Monarch Books (Monarch Books #414). It is 126 pages, originally priced at $0.40. The cover is by Jack Thurston. I bought my copy last month as part of a collection for about 60 cents.
See all of our recent Vintage Treasures here.